NJAPP's interview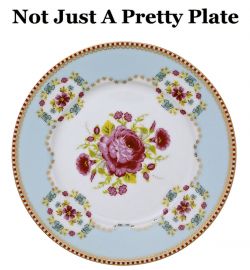 Interview by Laurence
We interviewed NJAPP!
Visit the blog: Not Just A Pretty Plate.
"As we have just started out, it is difficult to imagine where the blog could take us, but in our wildest dreams we would love to make cooking and food writing and photography into our careers."
Hello NJAPP, so tell us...
When did you begin your blog and what inspired you to start it?
Having both done cooking courses and cooking jobs together, we have always shared an interest and enthusiasm for food. As university students with exams approaching, naturally we were looking for a distraction and another form of procrastination, and so six months ago, in the Easter holidays, the blog was born!
In your wildest dreams, where is your blog going to take you as it develops?
As we have just started out, it is difficult to imagine where the blog could take us, but in our wildest dreams we would love to make cooking and food writing and photography into our careers. At the moment however, we just want people to enjoy reading Not Just A Pretty Plate, and hope that they find it useful and inspiring in their own kitchens.
Do you have different things you prefer to write about between you?
We definitely have different areas of interest. Zoe spends more time concentrating on the food styling and photography aspect of the blog, having done work experience with food stylist and writer Annie Rigg. On the other hand, Catie is keener on the writing side of the blog, and so together, we think the balance works well.
Do you have a secret weapon in the kitchen?
We think that if you have a radio, a sharp knife and a good supply of salt and pepper you can't go far wrong.
What would be your choice of dish or menu if you had to choose your "last meals ever"?!
Catie is a savoury person, so for her meal she would have to choose a nice pink rack of lamb with all the trimmings and plenty of redcurrant jelly. For Zoe's sweet tooth, she would choose Heston Blumenthal's lemon tart. Although it is a time consuming recipe, she is adamant that the effort is worth it for your last meal!
What are your earliest memories involving food?
Food has been important to both of us for as long as we can remember. Zoe recalls her Dad's failed attempt at her seventh birthday cake which turned into something resembling an omelette after adding a few too many eggs - it is safe to say that she has always taken control of the cooking since this incident! Catie first memories involving food were when, between the ages of about six and twelve, her favourite activity was to go raspberry picking in her Granny's garden, and afterwards help make the berries into delicious homemade jam, returning home with sticky, pink-stained fingers!
Are there any chefs that you admire in particular?
After watching her TV series, The Little Paris Kitchen, we both find Rachel Khoo's recipes and enthusiasm for food very inspiring. We are also huge fans of food blogger and photographer Katie Quinn Davies of What Katie Ate - we especially admire her stunning photography. Recently, for Catie's birthday, Zoe gave her the latest Nigel Slater book, which we also really rate. His relaxed style of writing makes you want to read his books from cover to cover, rather than just flicking to specific recipes.
If you could be contestants or guests on any cooking show what show would you choose?
This is an easy question for us as we are both avid fans of the Great British Bake Off - who isn't?! Mary Berry has always been a go-to recipe writer for us, and we consider her the ultimate cooking legend.
Which Gourmandize recipe would you recommend? (if none take your fancy add your own and share it with us!)
Our Foolproof Tarte-Tatin recipe is really delicious and ridiculously easy to prepare, so is definitely one of our favourites. We also find browsing Gourmandize good for finding new recipes to inspire us - with so many to choose from it would be impossible to choose just one!
Any last words or message for our readers?
"We all eat and it would be a sad waste of opportunity to eat badly" - Anna Thomas
Thank you NJAPP for answering our questions and see you soon!
Published by Laurence - 07/10/2013

If you are a blogger, a chef, working in the food industry or have a website about food and cooking, and you would like to share with our community, please contact us!
We would be happy to feature you on our site.