Galina's interview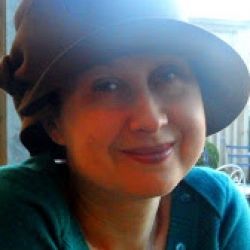 Interview by Laurence
We interviewed Galina!
Visit the blog: Chez Maximka.
Hello Galina, so tell us...
When did you begin your blog and what inspired you to start it?
I started it as a baby blog over 2 and a half years ago to show my younger child's milestones and photos, but soon the recipes and food posts have taken over. The title Chez Maximka is a reference to my little man's second name Maximus (Maximka is a Russian nickname for Maxim) and also a joking homage to the iconic French establishment Maxim's.
What kind of people do you write for?
My audience is as random as my blog: most of my readers are interested in food topics and recipes. Many are busy parents who love to cook. Parents of children of special needs (my older son has autism and I do talk about what it is to be a parent of a child with autism). Compers. Book lovers.
Are you involved in the blogging community - how do you attract new readers?
I belong to a few blogging communities on Facebook and Triberr. Interaction on Twitter is one of the best ways to attract the new audience. Pinterest is another great tool of finding new readers and followers. I'm also dabbling in Stumbleupon, and though some bloggers swear by it, I cannot say it has changed my blog traffic dramatically.
What are your goals for this blog? Where would you like to see it in the next year? Five years?
My goal is just to keep up with my blog. I don't care about stats or awards, so gaining a higher position up the charts is not my ambition. Ideally I would love to write a book of recipes, semi-autobiographical, as I believe my family stories could go nicely with the recipes. For example, my great gran was a cook in a baron's household in the pre-revolutionary Russia.
What is your favourite type of cuisine?
Russian, without doubt. It is my heritage, and this is a versatile cuisine, quite regional. The Russian cuisine is closely followed by the Italian one, as my husband is Italian, I became quite a pro at making pasta.
If you could be a contestant or guest on any cooking show what show would you choose?
Come Dine with Me could be fun. Though I would hate the contestants rummaging in my chest of drawers.
Are there any chefs that you admire in particular?
Nigel Slater. I love his writing style and approach to food. His recipes always work.
He's unpretentious and curious about the world. He sees the beauty in simple things. And cooks like a God. He's the main reason why I buy The Observer every Sunday.
What is your earliest memory involving food?
Picking apricots with my Mum at my gran's to make the jam later. Gran used to live in the south of Russia in a remote village in the Don river area, and there were a lot of abandoned farms with apricot trees, we would go around and "test" them for the flavour.
Are you or have you ever been a picky eater?
Not really. When I was little, we didn't have much choice. You ate what you had, or there would be nothing else offered. I think the only thing I refused to eat as a child was cooked onions.
Any last words or message for our readers?
Hope you visit my blog. Thank you for reading my interview!
Thank you Galina for answering our questions and see you soon!
Published by Laurence - 18/07/2013

If you are a blogger, a chef, working in the food industry or have a website about food and cooking, and you would like to share with our community, please contact us!
We would be happy to feature you on our site.