Manjiri's interview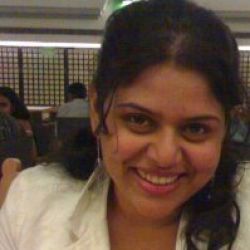 Interview by Laurence
We interviewed Manjiri!
Visit the blog: Sliceoffme.
" there is a lot of emotion, memories and hard work associated with making food and it's a rich and rewarding experience feeding loved ones what we make in our kitchens "
Hello Manjiri, so tell us...
When did you begin your blog and what inspired you to start it?
New to London and eager to experiment in my new environment I started this blog to share my experiences of discovering new ingredients and using them to make my versions of traditional Indian Food. I had a food pictures album on facebook where a lot of my friends would ask for recipes, I thought a food and travel blog would be a fun way to share my kitchen experiments and travel adventures!
If you could go back in time, what is the one piece of advice you would give your younger self as they started out on your blog?
I would ask myself to blog from often , to experiment as much as possible in the kitchen and share disasters as well as triumphs. No one is perfect, neither am I. We all learn as we go along. But blogging about food,travel and culture is a great conversation starter and a perfect way to make friends in a new place.
What is your favorite dish of all time?
My favourite dish is a spicy prawn curry made using freshly grated coconut and traditional Indian coastal spices. Served with boiled rice it's simple yet divine and never fails to bring back happy memories of home cooked meals.
You were born in Bombay, what's THE dish that says 'Bombay' to you?
With doubt it has to be a crispy fried fish called Bombay Duck also Bombil in Marathi, the language of the Maharashtrian community. This fish is a wobbly one with very fine cartilage which become really crispy when fried, the long central cartilage can be removed beforehand. Primarily though this fish found in the Arabian sea is salted and dried and has a very, very strong odour. It acquired the name Bombay duck during the times of colonization of India when it was transported by the then newly installed rail transport system from the west coast to Bengal by a train called the Bombay Daak, daak meaning mail in Bengali language.
Do you have a secret weapon in the kitchen?
Yes in fact I do! It's a thin blade sharp knife which I procured with great difficulty and cajoling from a street food vendor in Mumbai! I was so impressed with the speed with which he used it to chop red onions very fine and add them into various spicy street food treats we savour in Mumbai!
It's quite old now has a bent handle but I refuse to let go off it. I hope to procure a brand new one if possible somehow!
What is your earliest memory involving food?
Oh My god, now that made me think back in time and triggered off a nostalgia attack, fond childhood memories to be precise. As far back as I can remember and my parents and sister would concur, I have always loved eating eggs. Aai ,is how we refer to mum in Marathi , would happily comply to my demands for fried eggs. To this day for me a good breakfast is fried eggs with hot buttered toast and a perfect cup of tea ☺
Are there any chefs that you admire in particular?
The first name that pops's up each time I am asked that is Jamie Oliver! His infectious enthusiasm and passion are evident when he cooks and I love to watch his 30 minute meals. Everyone in my family loves him! Famous Indian Chefs Tarla Dalal and Sanjeev Kapoor are again family favourites and I have spent many a happy afternoon growing up , watching their telly shows with mum and feverishly writing down recipes !
If you could be a contestant or guest on any cooking show what show would you choose?
I think it has to be Masterchef because it really tests your creativity and allows one to challenge themselves in a great competitive yet positive environment.
Which Gourmandize recipe would you recommend? (if none take your fancy add your own and share it with us!)
I would love to share my recipe for a traditional Prawn Pilaf here. Here's the link to the recipe on my blog:
Prawn Khichadi Pulavpilafpoolav
It is made using a great combination of spices and prawns which is my favourite food!
Any last words or message for our readers?
First of all I would like to thank the team from Gourmandize for allowing me to share my views with their readers. I am a humble simple home cook passionate about food and share what I love most. I just want to say that perhaps food is the one common thread that connects all human beings , having said that there is a lot of emotion, memories and hard work associated with making food and it's a rich and rewarding experience feeding loved ones what we make in our kitchens. So keep cooking , blogging ,taking wonderful pictures and spread the love !
Thank you Manjiri for answering our questions and see you soon!
Published by Laurence - 12/08/2013

If you are a blogger, a chef, working in the food industry or have a website about food and cooking, and you would like to share with our community, please contact us!
We would be happy to feature you on our site.