Nuala Ní Chonchúir's interview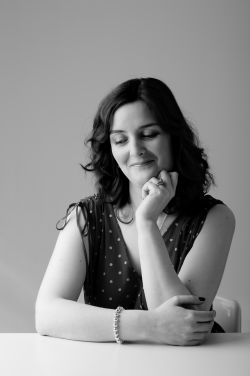 Interview by Laurence
Visit the blog: The Hungry Veggie.
Hello Nuala Ní Chonchúir, so tell us...
When did you begin your blog and what inspired you to start it?
I originally started it in April 2008 as a vegan blog (my husband is vegan) to gather together recipes for people who fear feeding vegans. It quickly morphed into a baking blog (I love baking healthy cakes and treats) but I also do reviews of veggie friendly cafés; food festivals; interesting baking products etc.
I switched it to a veggie blog to make life easier for myself but I still post a lot of vegan recipes.
How long have you been vegetarian?
Since 1995, so 18 years. We are bringing our 4 year old daughter up as a veggie, but her two brothers eat meat.
What is your favourite dish of all time?
Some kind of curry. Chickpeas, to me, are the perfect food. So Chana Masala, maybe. Though being Irish I also like the odd spud, so Aloo Gobi is also a hit with me. With pilau rice.
We love your photos, in your opinion what makes a dish beautiful?
To look at, colour, texture, setting, how it's 'dressed' - the plate! I collect old plates and china, so I love a nice looking meal or cake.
Do you have a secret weapon in the kitchen?
Hmm, I would pretty much add garlic to everything if I was let. But I also love soy sauce's ability to liven up the dullest meal.
What is your earliest memory involving food?
Wow, that's a hard one. My mother baked a lot and I remember Sunday mornings with her baking brown bread, soda bread, sponge cakes and buns (fairy cakes).
I have always loved food and, though we ate plainly at home, it was all good food. I loved coming home to a good beef stew after a wet half-mile walk down the lane to our house.
Are there any chefs that you admire in particular?
I love Nigella because she loves food.
In real life, Dennis Cotter, who runs the very excellent
Café Paradiso
in Cork, a gourmet vegetarian restaurant. We go there every September for my husband's birthday. And look forward to it all year. Veggie sceptics are blown away by Dennis's food.
We see that you're an accomplished writer, does writing a food blog as well help keep your pen in shape or is it more of a way of relaxing?
It's totally separate. Writing novels and short stories is the day job; baking is escape and relaxation. But I'm a compulsive writer so inevitably I write about the cooking!
Which Gourmandize recipe would you recommend? (if none take your fancy add your own and share it with us!)
I have become a chocolate cake and choc brownie nut in the last two years or so, out of nowhere. I used to hate them but I was clearly eating the wrong ones. This
Black Bean Brownies
recipe by intrigues me and I will be trying it out asap.
Any last words or message for our readers?
Give veggies and vegans a chance!! Just because we like healthy food mostly doesn't mean we like small amounts of food or that we disdain fattening foods. My husband and I love food and do lots of research before we go away on eating spots (and with my work we travel a lot) - we love to see places that provide equal opportunity for veggies.
So if you have veggie friends, be kind :) We REALLY appreciate it.
Thank you Nuala Ní Chonchúir for answering our questions and see you soon!
Published by Laurence - 27/08/2013

If you are a blogger, a chef, working in the food industry or have a website about food and cooking, and you would like to share with our community, please contact us!
We would be happy to feature you on our site.