Helen's interview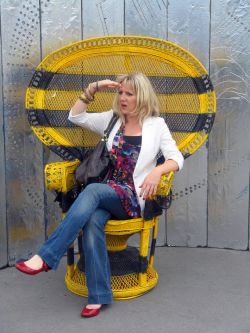 Interview by Laurence
We interviewed Helen!
Visit the blog: Food Stories.
" If it doesn't taste right, it either needs more butter, hot sauce, or deep frying."
Hello Helen, so tell us...
When did you begin your blog and what inspired you to start it?
I started in July 2007 so I've been going a long time! I'm really not sure why I started it, and I wish I could answer the question but it just seemed very natural to sit down and write about food. I enjoy the interaction with other people too, via comments. It allows contribution from others and is an interesting way to develop recipes further.
If you could go back in time, what is the one piece of advice you would give your younger self as they started out on your blog?
Keep it snappy. Remember, people won't bother reading if there's no value for them. A blog post which rambles on and on in a self indulgent way isn't interesting for other people.
What is your favorite dish of all time?
Ooh, tricky! I'm so greedy it's hard to pick just one. I do love me some jerk chicken. It's also hard to beat a really good sandwich, and I mean a proper, serious sandwich, not just a ham and tomato (although that's good too). I'm a little obsessed with pasta; I can eat enough for 4 people in one sitting. I think if it came down to it though, I'd just have some really good sourdough, spread thick with Normandy butter - the one with sea salt crystals in it.
Your photos are great, in your opinion what makes a dish beautiful?
I have no idea what I'm doing with a camera to be perfectly honest. I just sort of snap away until it looks okay. I think what makes a dish beautiful is not messing about with it too much. Food 'styling' just makes me feel a little nauseous. Also, I like my food to be hot when I eat it, so I'm not going to faff about with a picture for 15 minutes first.
Do you have a secret weapon in the kitchen?
Yes, the combination of a glass of wine and the food programme on in the background. I need to be relaxed to cook good food.
What is your earliest memory involving food?
Of eating so many pickles my lips would turn white. I'm still obsessed with them.
Are there any chefs that you admire in particular?
I'm not really a chef groupie in any way. I admire any chefs that cook good, simple food without any faff; no smears or foams or fluffs or trumpets. There's a time and a place for that of course, but you need to be really good to pull it off.
If you could be a contestant or guest on any cooking show what show would you choose?
I'm not really into the idea of being on TV to be honest, but I did once apply to go on Supermarket Sweep...thankfully I didn't get picked.
Which Gourmandize recipe would you recommend? (if none take your fancy add your own and share it with us!)
Well I really should share a sandwich recipe with you! Here's one for a meatball sub. It takes a bit of work but the results are so worth it. Oh and very messy
http://helengraves.co.uk/2012/02/meatball-subs/
Any last words or message for our readers?
If it doesn't taste right, it either needs more butter, hot sauce, or deep frying.
Thank you Helen for answering our questions and see you soon!
Published by Laurence - 22/07/2013

If you are a blogger, a chef, working in the food industry or have a website about food and cooking, and you would like to share with our community, please contact us!
We would be happy to feature you on our site.