Katy's interview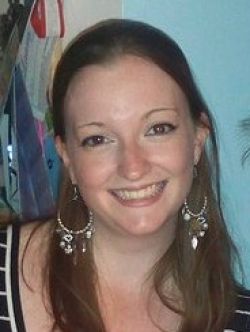 Interview by Laurence
We interviewed Katy!
Visit the blog: Happy Baking Days.
Discover Katy's favourite recipe: Strawberry Tart
Hello Katy, so tell us...
When did you begin your blog and what inspired you to start it?
I began my blog almost exactly 1 year ago. I was inspired by a group called #SundaySupper that I found on Twitter; the founder Isabel asked me to contribute some recipes so I started Happy Baking Days.
I quickly found my niche because I am a coeliac and I wanted to show people that it is possible to bake delicious food without gluten. I also enjoy sharing my culture and those that I have experienced through food, and this also comes through in my blog.
If you could go back in time, what is the one piece of advice you would give your younger self as they started out on your blog?
Happy Baking Days is my second blog - I also write the travel blog Starry-Eyed Travels. So I felt like this time round, I had more experience going in. I still have an awful lot to learn, but one of the main things with Happy Baking Days was simply to enjoy the blogging process and to write (and indeed cook!) with passion. I also found a focus quickly, which I think is important.
What is your favorite dish of all time?
This is such a difficult question - I enjoy so many different foods! I suppose apple pie and custard is one of my very favourite desserts.
Your photos are great, in your opinion what makes a dish beautiful?
I am learning a lot about food photography and my photos are slowly improving - I have learnt that what looks good on the plate does not necessarily look good on camera! Good lighting is really important for taking photos I try to shoot outside or in a room with lots of natural light whenever possible - it's much easier at this time of year than in the Winter! I also think that a dish with a dash of colour is very pleasing, whether that's a sprig of rosemary or a sprinkling of raspberries.
Do you have a secret weapon in the kitchen?
I use ground almonds to enrich pastry dough and to help it bind - something which is often a problem when working with gluten-free flour.
What is your earliest memory involving food?
Both my Mum and Grandma are fantastic cooks, and I can remember being taught to bake when I was very young. I had to stand on a chair to reach the counter, and my Grandma would teach me how to flour the worktop and rub butter and flour between my fingers to make pastry.
Are there any chefs that you admire in particular?
I am enchanted by Rachel Khoo and her Little Paris Kitchen, and I admire her determination for following her dream - and for cooking in such a small place! I also greatly admire Michel Roux Sr - I would love to be able to make pastry like him and I have learnt so much from his books. Finally, my weekend mornings would not be complete without James Martin and Saturday Kitchen Live - he is very talented, but presents techniques and dishes in a very simple, down-to-earth way.
You're quite the globetrotter, what's the most exotic thing you've tried?
I ate cuy - guinea-pig - in Peru. I can't say it was the most delicious thing ever, but it wasn't bad, and it made for a very authentic peruvian celebration!
Which Gourmandize recipe would you recommend? (if none take your fancy add your own and share it with us!)
The
Strawberry Tart
looks like the perfect Summer dessert!
Any last words or message for our readers?
Just enjoy experimenting in the kitchen - it is not an exact science and with a few basic techniques, your imagination is your only limit!
Thank you Katy for answering our questions and see you soon!
Published by Laurence - 10/08/2013

If you are a blogger, a chef, working in the food industry or have a website about food and cooking, and you would like to share with our community, please contact us!
We would be happy to feature you on our site.