Toby's interview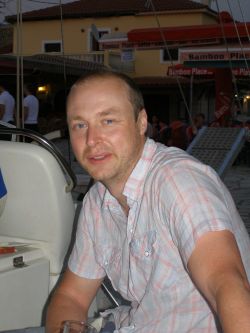 Interview by Laurence
We interviewed Toby!
Visit the blog: Flavoursome Feast.
"If anyone is considering applying for Masterchef, just do it. Everyone working on the show's a fellow foodie so from the first interview onwards it was a joy."
Hello Toby, so tell us...
When did you begin your blog and what inspired you to start it?
I started my blog in March this year following an appearance on the BBC's Masterchef, the filming process completely immersed me in all things food and introduced to me a lot of other foodies.
I wanted to continue my foodie 'journey' (to use a terrible cliche) and had a lot of interest in my recipes, hence Flavoursome Feast.
If you could go back in time, what is the one piece of advice you would give your younger self as they started out on your blog?
I'm almost too new to answer this one! Probably, "slow down, and use some quality control".
What is your favorite dish of all time?
An almost impossible question, it depends on season, location, company, what I feel like eating.
For minimal effort and maximum reward I love braised shoulder of lamb, spiced or given the rosemary and garlic treatment...
Your photos are great, in your opinion what makes a dish beautiful?
My photos are far from great!
Beautiful food shouldn't be too complicated, it should resemble what it is and not be overdressed.
One important lesson that I'm trying to apply is portioning, food wise big certainly is not beautiful!!
Do you have a secret weapon in the kitchen?
Probably seasoning.
Most home cooks simply do not season enough (be it with sea salt, pepper, lemon juice or garam masala), correctly seasoning food makes a huge difference and learning to do so by taste improves your palate.
What is your earliest memory involving food?
Probably creating a 'stuffed chine' at home with my Mum, Dad and brother, I grew up in rural lincolnshire and this is a local speciality. Essentially it's a whole cured chine of pork (a massive cut) with lots of parsley stuffed into slits in the flesh, producing very tasty pink and green stripes once it's roasted. Chines were only stuffed for special occasions and required a lot of work so the whole family were drafted in to help, however young!
If you ever get the chance to try 'stuffed chine' jump at it, it's remarkable.
Are there any chefs that you admire in particular?
I love Simon Rogan, my greatest meal ever was at l'Enclume and I really admire the way that he's been through molecular gastronomy and come out of the other side, always showing the utmost respect for his ingredients.
Pascal Poyart was wonderful when I had the opportunity to cook with him too, very patient and understanding.
Fergus Henderson's approach to cheaper cuts of meat has taught me (and the rest of the world) a huge amount and I still find St. John inspirational.
I suppose Hugh Fearnley-Whittingstall rates a mention here too, his approach to food also inspired me many years ago and gave me the tools to home cure and bake etc.
You were on this year's MasterChef, how was that experience for you?
Truly wonderful.
Everyone working on the show's a fellow foodie so from the first interview onwards it was a joy. I met so many wonderful people and had so many unforgettable experiences, my only regret is that I made too many mistakes and didn't get to the quarter final!
If anyone is considering applying for Masterchef, just do it.
Which Gourmandize recipe would you recommend?
Cocoa Caramel Bourbon Truffles
These look pretty good!
Any last words or message for our readers?
Recipes are only guide, never be afraid to alter, adapt, use what you have to hand, the most fun's to be had when you're relaxed and doing your own thing!
Thank you Toby for answering our questions and see you soon!
Published by Laurence - 27/07/2013

If you are a blogger, a chef, working in the food industry or have a website about food and cooking, and you would like to share with our community, please contact us!
We would be happy to feature you on our site.