Craig's interview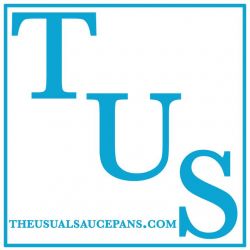 Interview by Laurence
We interviewed Craig!
Visit the blog: The Usual Saucepans.
"If you love a particular food, don't be ashamed of it; but never stop trying new things - the world moves forward with novel ideas, so don't be put off if it goes a little wrong once in a while."
Hello Craig, so tell us...
When did you begin your blog and what inspired you to start it?
I started it late last year, but TUS is the successor to my previous blog, which I wrote at uni. I've always loved cooking and baking, but really found my passion for good food at university (I found ways to save on things in order not to eat beans on toast - mainly because baked beans are disgusting). From there it was a short hop to putting pen to paper, so to speak, and creating the blog.
If you could go back in time, what is the one piece of advice you would give your younger self as they started out on your blog?
Just do it. Don't spend time worrying if it's good enough. No one's blog is perfect in the beginning (and it'll never quite be done, especially if you're a perfectionist like me). It doesn't matter if your first 20 posts aren't very good - there probably won't be that many people reading them. The worst that can happen is that no one reads it, so just get on and hit the publish button!
What is your favorite dish of all time?
It's got to be a venison roast. The flavour of good quality venison is incredible, if you do everything else around it right as well, you'll have a dish fit for a king (or yourself).
We see you make a real effort to take great photos, in your opinion what makes a dish beautiful?
Thanks! It sounds cheesy (mainly because it is), but it's the taste that makes a photo stunning. If people can imagine the flavour from your photo, or it makes their mouth water you're clearly doing it right. Good food makes for good photos - there are exceptions to that rule though!
Do you have a secret weapon in the kitchen?
I've a box of spices that I like to top up whenever I go on holiday or see something exciting at a market. The dullest of dishes can become a hit if you know what spice to add!
What is your earliest memory involving food?
Discovering that I could pick the raspberries of the bushes in our back garden and eat them when no one was looking. I've always adored raspberries.
Are there any chefs that you admire in particular?
Raymond Blanc is my culinary hero. His cooking is incredible and he's hilarious - he's the sort of people I'd go to the pub with. I'm reading his autobiography at the moment, everyone should read it. Having said that, who could ignore a bit of Nigella? Her TV shows always make me ravenous.
You have a great section on Edinburgh's crown jewels so to speak in food - restaurants, suppliers and so on. Have you uncovered any hidden gems?
There are loads of hidden gems in Edinburgh! I have a list longer than my arm of places to try. If you're in the city, ignore big chains - they're as dull as they are everywhere else. Try the places on the side streets - go for a burger in the Cambridge Bar, or a pint at Brewdog - that's where the excitement and the real talent is! We're really lucky to have loads of local producers as well, so go to the Saturday Farmers' Market in town, or the Stockbridge market on a Sunday - you'll be amazed at the diversity and deliciousness on offer.
Any last words or message for our readers?
If you love a particular food, don't be ashamed of it; but never stop trying new things - the world moves forward with novel ideas, so don't be put off if it goes a little wrong once in a while. Oh, and come visit Theusualsaucepans.com as well - I hope you like it!
Thank you Craig for answering our questions and see you soon!
Published by Laurence - 18/08/2013

If you are a blogger, a chef, working in the food industry or have a website about food and cooking, and you would like to share with our community, please contact us!
We would be happy to feature you on our site.