Charlene's interview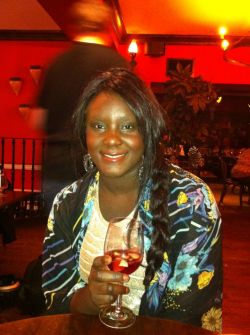 Interview by Laurence
Visit the blog: Food Glorious Food.
"Try new and unfamiliar recipes, sometimes these can become firm favourites."
Hello Charlene, so tell us...
When did you begin your blog and what inspired you to start it?
I began my blog in November 2011. I was initially inspired by trying to find a picture for a mojito cake that I wanted to bake and stumbled upon a baking blog, which not only baked the cake but also shared baking advice and tips. I have always enjoyed cooking and baking and I thought a food blog would be a great way for me to share the food that I make, bake and enjoy.
If you could go back in time, what is the one piece of advice you would give your younger self as they started out on your blog?
Read other blogs and if possible, participate in popular blog events such as Teat Time Treats (hosted by Lavender and Lovage and What Kate baked), We Should Coco (Chocolate Log Blog) and Baking With Spirit (hosted by Cake of the Week). This helps your blog "get out there" and you also can get great cooking and baking tips from other bloggers.
What is your favorite dish of all time?
Without a question, lasagne. I've always loved lasagne; the combination of pasta, beef mince, tomato sauce, and cheese sauce all topped with cheese is perfection in my eyes. It's a dish I have at least once a month and order regularly at restaurants.
You're a cookbook collector, what's your favourite one if you had to choose?
Nigella Lawson's Kitchen is my favourite cookbook. It was my first Nigella Laswon cook book purchase and I find the recipes are so diverse; every continent is covered in the pages and all the recipes I've made are so simple to make and taste delicious. I also like Lorraine Pascale's Baking Made Easy and I have probably baked the most from this book.
Do you have a secret weapon in the kitchen?
Scissors. They are useful for opening packets, cutting chilies and meat.
What is your earliest memory involving food?
Probably making scones at school and attempting to eat them whilst they were very hot.
Are there any chefs that you admire in particular?
I like Nigella Lawson as she is very passionate about her food and her recipes cover many cuisines of the world. I also like Levi Roots as he has introduced me to different way of revamping my favourite Jamaican recipes and his cookbooks have also introduced me to different recipes from other Caribbean islands. Lorraine Pascale is another favourite chef of mine, her recipes are also easy to make.
If you could be a contestant or guest on any cooking show what show would you choose?
I'm a big fan of The Great British Bake Off, but am not the best baker so would probably be Britain's Best Dish. I'd probably try to make an ackee and bacon quiche – something unusual but delicious.
Which Gourmandize recipe would you recommend? (if none take your fancy add your own and share it with us!)
My
Mississippi mud cakes
are a must for any chocoholic person out there. Also a Caribbean inspired dish such as my
saltfish fritters
or
Escovitch fish
.
Any last words or message for our readers?
Try new and unfamiliar recipes, sometimes these can become firm favourites.
Thank you Charlene for answering our questions and see you soon!
Published by Laurence - 20/08/2013

If you are a blogger, a chef, working in the food industry or have a website about food and cooking, and you would like to share with our community, please contact us!
We would be happy to feature you on our site.