All About Beef
Google Ads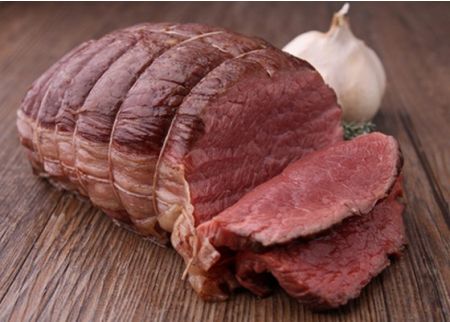 Mmmmm beef.

Beef:

Beef is a type of meat and is derived from all types of cattle that can be slaughtered, regardless of their age. Beef meat therefore includes everything from veal, calf to cow, bull, cull or Heifer.

As the third most widely eaten food in the world, after poultry and pork, it seems beef is on everyones lips.

Perfect to grill for a backyard barbecue or roasted for a traditional British lunch, beef is a versatile food that has been adapted to suit many dishes across numerous countries.

Protein is one of beef's most well-known nutritional qualities, but it is also high in iron, zinc and B vitamins.

British bovine breeds such as Longford and Hereford are widely considered to be among the best beef in the world.


In Season:

Beef is available all-year round in the UK & Northern Ireland.



How to Pick it:

The sex of the animal has little importance on the quality of the meat. Other criteria's, such as breed and the method of feeding the livestock, are much more important.

It is obvious that the breed of animal, which is well raised, will produce better meat.

These qualities of the animal are not only important; the choice of cut also counts for a lot.

Choose a cut of meat that is bright red, shiny and firm.

To be nice and tender, the meat must have had time to mature: it must also be blue-veined and marbled.


Below is an easy guide on beef meat cuts:
| | |
| --- | --- |
| Veal: male, neutered, less than 18 months old; the meat is quite pale and not very flavoursome. | |
| Calf: male, not neutered, age 18 to 20 months: the meat is tender, still pale and tasteless. | |
| Beef: male, neutered, from 30 to 48 months: meat is coloured, tender and tasty. | |
| Bull: old male, not neutered; the meat is dark and has a pronounced flavour. | |
| Heifer: female, aged from 24 to 36 months; the meat is tender and tasty. | |
| Cull: A cull or reformed cow is a cow from the herd to be slaughtered. A dairy cow especially; the meat is high-quality, provided that the cow is not too old. | |
| | |
How to Cook it:
According to its' location on the animal, the cut of meat can be more or less rich in fat.

Meat cuts are therefore classified into three categories, according to where they are located on the carcass, which determines how you will cook the particular cut: the more nerves and fat the meat cut has, the longer it will take to cook.

How to Store it:

The bottom of the fridge is the best place to keep airtight packaged, store-bought meat. However, beef from your local butcher should be placed in a large bowl, plastic sealed and put also at the bottom of the fridge.

Smaller cuts bought from the butcher last about 2 or 3 days, and up to 5 days for larger cuts. For store bought, keep a close eye on the expiry date.


We like it with: Black pepper sauce and grilled.



We like it spicy: See our top Chilli con carne recipe.
More articles on the same theme
Chef Tips and Tricks
How to trim and tie a roast
In this video, we show you the best way to trim and tie a roast, all by yourself! You don't need the butcher or supermarket to do it for you when it's so easy to do it at home.