The Great Bath Feast
Google Ads
The Great Bath Feast

Discover a melting pot of wonderful flavours and expert food personalities at 'The Great Bath Feast'. With more than 100 events over the month-long food festival, here are just a few of the highlights.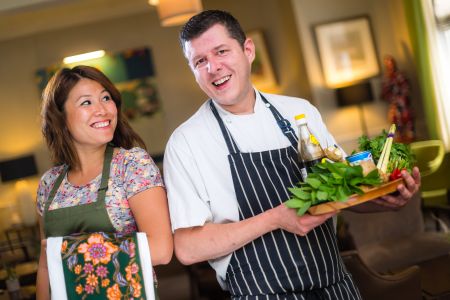 Cooking Duo: Masterchef 2014 winner, Ping Coombes and Allium's Chris Staines.
A Feast for the Eyes: The Great Bath Feast

It is said that we feast with our eyes first, so this year's Great Bath Feast food festival will surely whet the appetite.

In just under a few weeks, foodies across the UK will be flocking to The Great Bath Feast to indulge in a full-menu of culinary events, and featuring celebrity chefs, over the lively celebration to run from October 1 - 31.

This year's theme is 'A Feast for the Eyes' will explore how our senses add to the enjoyment of eating and drinking.


Food Stars and Special Events
Food lovers will be spoilt for choice during Bath's annual grand food festival, set to host more than 100 delicious events, and welcome a star-studded cast of food celebrities, including;




Malaysian Street Food by Masterchef Champion and Top Local Chef
Britan's newly crowned Masterchef winner and Bath resident, Ping Coombes will be teaming up with Bath's top chef, Chris Staines, for a special event at Allium Brasserie on October 14 & 15.

The two creative talents will pair their passion and skill to cook up 60 covers with a menu to reflect the tastes, flavours, ambience and excitement of authentic Malaysian street food.
Ping says she cannot wait to be cooking up delicious street food on home turf.



"Living in Bath I am really proud of the great food scene we have here and I totally believe in the concept of the Great Bath Feast," she says.


"When Chris and I started to talk about an event I was totally sold! His love of Asian flavours and experience will compliment what I can bring to the collaboration and I am really looking forward to working with him."


While there's the adage that "too many cooks in the kitchen, spoil the broth," Chris says this will definitely not be the case with Ping in his kitchen.


"It's hard for a Chef to let someone else come into your kitchen, but with Ping there is so much that we can learn from each other that I am genuinely excited to have the opportunity to work together and really pleased the events will be part of The Great Bath Feast, which is now in its third year, and becoming an established part of the culinary calendar for the South West."
Social Media Supper
While some chefs are threatening to fan food photography in restaurants, The Great Bath Tweet Feast, will be encouraging dinners to snap and share all things food at the social media supper.


Food Photograper of the Year

The Pink Lady Food Photographer of the Year will be on show for the first time in the Bath at the Octagon in Milsom Place Milsomplace.co.uk and Great Bath Feasters will be encouraged to share images of amazing dishes during the month using # feastfortheeyes.

The awards cover fourteen categories, ranging from Food in the Street, Food in the Field, Food Portraiture and of course, young categories in three age groups.


This year's overall winner was Tessa Bunney (of the UK/Lao PDR) for her photograph, Noodle Making.


To enter next year's competition visit www.pinkladyfoodphotographeroftheyear.com
Category Winners: See the full list of 2014 winners here.


Food Bloggers
1ST
ANIKO MENEGHININE SZABO
ITALY

Cream of the Crop
1ST
LOUISE LISTER
AUSTRALIA

Pink Lady Apple A Day
1ST
WILLIAM HONDOKUSUMO
INDONESIA
Big Cheeses in Bath
Bath plays host to a mouth-watering mix of the UK's leading artisan cheese makers at the Fine Cheese Co. Festival at Milsom Place on 25th October (10 am to 5pm). This annual festival is a firm fixture for the best in class in an increasingly competitive world and a one-off opportunity to meet the makers and sample award-winning cheese.

The Must Taste Cheeses:

White Lake Cheese
Signature cheese, Rachel.

Made with goats' milk, Rachel has a rare, subtle texture and smooth, clean taste. Pete Humphries named the cheese after a girlfriend whom he describes as "sweet, curvy and slightly nutty."
Recently featured as a finalist at the SOFI Awards - the Oscars of the food world – Rachel made it to the final round in a huge coup for British cheese.

Hampshire Cheese, Tunworth.

Described as "the best Camembert in the world." Crafted by Raymond Blanc this cheese has the thinnest possible rind, an undulating surface, and a profoundly fruity tang.



2010 Supreme Champion winners Caws Cenarth

Will present their organic cow's milk cheeses including their famous Welsh Farmhouse Caerffili.

Devon cheese maker, Ticklemore Cheese, Blue Cheese

Made in a Roquefort style, tasting sweet and slightly spicy.

Other Events

Culinary Workshops
The Great Bath Feast Pavilion programmes ten days of foodie action kicking off with the cookery theatre showing off the range of culinary expertise from Bath's top chefs as well as cake decorating and cocktail masterclasses. Top billing goes to the Chili Superleague, when Bath Rugby play off Bath Netball in a chilli tasting contest to gauge how hot they can take it with chillies provided by nearby Upton Cheyney Chilli Farm.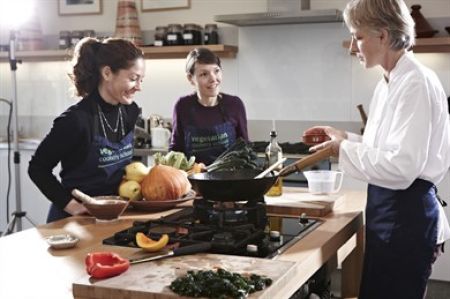 For more event information please visit: www.greatbathfeast.co.uk/

For more about what to do while in Bath visit: www.visitbath.co.uk

More articles on the same theme