Leyla Kazim's interview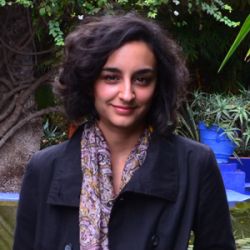 Interview by Charlotte
Visit the blog: The Cutlery Chronicles.
Discover Leyla Kazim's favourite recipe: Blood Orange Macarons
"Eating is my religion; I'm pretty devout."
Hello Leyla Kazim, so tell us...
How did you come up with the idea of starting your blog?
I started the blog in October 2012. I'm a person that likes to document and record things, to look back over some time in the future. Having a sort of food anthology I could refer to for both recipes and good places to eat out appealed to me a lot. Another reason I started it was because I missed writing. One of my A-levels was English in which I got my highest grade, but I pursued Physics at university and hadn't written any prose for years - I missed it. The blog is a great outlet for any creative juices (I think) I have - I'm hoping the regular practice is helping me to constantly improve. Finally, I enjoy photography and the blog has given me the opportunity to exercise a bit of food styling and share any decent photos I take.
What opportunities has your blog allowed you in terms of travelling experiences?
Rather than 'allowing' me to visit places per say, it's proved an invaluable outlet for my travel experiences. There are posts on there about Iceland, Istanbul, Japan, Marrakesh, Stockholm and New York. This December, I'm lucky enough to be embarking on a 9 month travel expedition covering India, Taipei, Honk Kong, Vietnam, Laos, Thailand, Vietnam, Indonesia, New Zealand, Hawaii, Canada and Mexico - I'm aiming for the blog to turn into a weekly diary of the places I visit, the people I meet and the food I eat.
What is your secret weapon in the kitchen?
Lemon juice. There are few dishes that can't be improved with a squeeze of it. Lemon juice may as well run through my veins (that's the Turkish side speaking), so I perhaps have a higher than average attraction to it.
What dish or menu could you not live without?
Bread. Whilst I consciously limit the amount I have, I would never be able to give it up fully. Particularly Turkish bread, which has got to be some of the best in the world. Pasta, potatoes, rice - I could live without all of those (if I had to). But not bread.
What is your earliest memory involving food?
Going to my Aunt's for full-on family gatherings, tens of people there, with the table creaking under it's own weight of glorious home cooked Turkish Cypriot food. I remember being commended on just how much I could pack away even at a young age - "She has such a healthy appetite!". I'd play Turkish card games with my uncles (and often hustle them to their surprise) whilst enjoying the feast. Great memories.
What chefs do you admire most and why?
Nigel Slater lends a purity and simplicity to his dishes that few other people manage and I really enjoy his style of writing. I'm also quite in love with the chemistry and obvious close friendship between Antonio Carluccio and Gennaro Contaldo on Two Greedy Italians – one of the best food shows of recent years in my opinion, so I frequently leaf through their Italian offerings.
If you could be a contestant or guest on any cooking show, what show would you choose?
I have always said, I would be rubbish at the Masterchef Invention test. I wouldn't be able to come up with a recipe under pressure and with a time limit, so kudos to all those that do well in that.
However, I would love love love to do the task where they get to work in a professional kitchen for a service, where they're shown how to make a dish and then have to turn out a loaf of them, one after the other.
Come Dine with Me sort of appeals, but I'd be worried I'd end up with a psycho who slipped through the vetting process, who then knows where I live.
Which Gourmandize recipe would you recommend? (if none take your fancy, add your own and share it with us!)
These blood orange macaroons sound pretty good: http://www.gourmandize.co.uk/recipe-52362-blood-orange-macarons.htm
Any last words or message for our readers?
Eating is my religion; I'm pretty devout.
Thank you Leyla Kazim for answering our questions and see you soon!
Published by Jill - 04/06/2014

If you are a blogger, a chef, working in the food industry or have a website about food and cooking, and you would like to share with our community, please contact us!
We would be happy to feature you on our site.