Laura's interview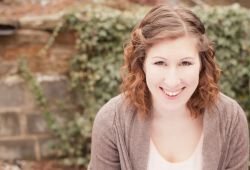 Interview by Laurence
We interviewed Laura!
Visit the blog: The Mrs Makes.
" I would love to go on Saturday Kitchen, I think I could make the fastest omelette! "
Hello Laura, so tell us...
When did you begin your blog and what inspired you to start it?
I started blogging in April of 2012 - exactly a year before my wedding and it was a way to share all the wedding crafts I was doing. Slowly wedding crafts turned into an actual wedding, and now the blog isn't about a handmade wedding, it's about a handmade life.
If you could go back in time, what is the one piece of advice you would give your younger self as they started out on your blog?
Hmmm. Take better photos. I've recently invested in an excellent camera and a photography course and have seen my blogging go to strength to strength since. My first post pictures were taken on my blackberry and they are truly terrible!
What is your favorite dish of all time?
Oh that's a mean question. I don't want to choose. I shan't. That would be insulting to all other food.
Your photos are great, in your opinion what makes a dish beautiful?
Well thanks very much. A beautiful dish is a healthy dish. You try taking 'pretty' pictures of unhealthy food. I promise you - unhealthy food is grey. Healthy food is fresh, colourful and a joy to take pictures of.
Obviously, if you make me a fabulous cake I'll also claim that's healthy ...
Do you have a secret weapon in the kitchen?
Elbow grease. I don't have a mixer, blender or electric whisk. I think it's much easier to tell if something is 'done' if you can feel it yourself rather than letting a machine do it.
Also tea. I always cook whilst drinking tea.
What is your earliest memory involving food?
HA! My mother will kill me but some of my first words were 'bloody Weetabix' as I launched my breakfast cereal out of my high chair.
A law degree is a lot of work, what would you say was your best revision-food for exams?
Tea. Lots and lots of strong Yorkshire tea. (Strong and milky if you're making, no sugar).
If you could be a contestant or guest on any cooking show what show would you choose?
I would love to go on Saturday Kitchen, I think I could make the fastest omelette!
Which Gourmandize recipe would you recommend? (if none take your fancy add your own and share it with us!)
It's so hard to choose. Personally I gravitate towards all sweet things and I really think everyone needs some salted caramel in their lives. For full on gluttony you can try my salted caramel fudge:
http://www.themrsmakes.com/2012/06/thursday-treats-sweet-or-savory.html
Or if you're feeling a bit fancy I also have a good salted caramel choux-bun recipe:
http://www.themrsmakes.com/2013/07/thursday-treats-choux-buns-with-salted.html
Any last words or message for our readers?
The Mrs Makes loves to share other people's crafts and creations as well as mine, so if you've made something you are proud of feel free to submit it to us!
Thank you Laura for answering our questions and see you soon!
Published by Laurence - 04/08/2013

If you are a blogger, a chef, working in the food industry or have a website about food and cooking, and you would like to share with our community, please contact us!
We would be happy to feature you on our site.