Dewi's interview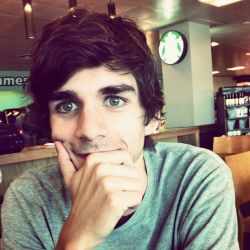 Interview by Laurence
We interviewed Dewi!
Visit the blog: The Boy Can Cook.
" Nothing makes me happier than sitting down at a table with family and friends with a big bowl of pasta in the middle, and everyone helping themselves. "
Hello Dewi, so tell us...
When did you begin your blog and what inspired you to start it?
I began the blog in June, so it's not even 3 months old yet! I started The Boy Can Cook mainly to share my love of cooking with anyone who wanted to read about it. What I didn't expect, however, was how many people actually tried out the recipes and cooked the food! Knowing that I've inspired others to get into the kitchen, and that they're cooking my recipes, is a feeling that just can't be beaten.
What is your favourite dish of all time?
That is such a difficult one. It would have to be something Italian. Probably a rich, slow cooked beef ragu with tagiatelle!
Your photos are very attractive, in your opinion what makes a dish beautiful?
Imperfection. We are all defined by our foibles and imperfections, they are what draw people to one another. I think food works in the same way. For me, a rustic looking dish is beautiful and makes me want to dive right in. The ingredients do the work, and are attractive as they are. Michelin star, over the top presentation doesn't do it for me, I'm afraid.
Do you have a secret weapon in the kitchen?
My mini food processor. I've not had it long but it's already had an awful lot of use. I'm quite proud of my knife skills but when I'm in a hurry, the processor can do the prep work!
What is your earliest memory involving food?
Licking the mixing bowl after my Mum had just put a sponge in the oven. I must have only been about five years old. Not the most hygienic thing, I know, but I don't think you ever grow out of that!
Is there a cook or chef that has really influenced you?
Jamie Oliver. I don't think I'd be cooking like I am now without having watched The Naked Chef when I was younger. I wasn't interested in cooking shows at all, but there was something about Jamie Oliver that resonated with me. His approach to food is unpretentious and accessible, which I love. Delicious, exciting food which you can make at home. That's just what I want to come through in my own cooking, and indeed my blog. Over the years I've learned a lot from his books and TV shows, and his love of Italian food has certainly rubbed off on me. I'm also a big fan of Nigel Slater, for many of the same reasons. His cooking is also straightforward and modest. I love how his recipes are all about making the very best of the ingredients. I learnt a lot from his series on flavour combinations. He was also generous enough to to take the time and read some of my blog, and I was very grateful of his kind words.
You say you're a big fan of Italian cooking, what is it about this cuisine that you admire the most?
Like I've mentioned above, I love unpretentious cooking which is all about the ingredients. That's what Italian food is all about. Never a ridiculously long list of ingredients, just simple cooking, done well. And I love how passionate Italians are about sharing food! Nothing makes me happier than sitting down at a table with family and friends with a big bowl of pasta in the middle, and everyone helping themselves.
Any last words or message for our readers?
Just thank you for reading my interview, and I hope that you like my blog!
Thank you Dewi for answering our questions and see you soon!
Published by Laurence - 25/08/2013

If you are a blogger, a chef, working in the food industry or have a website about food and cooking, and you would like to share with our community, please contact us!
We would be happy to feature you on our site.