Food Junkie Recipes's interview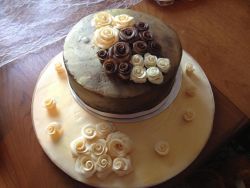 Interview by Laurence
Visit the blog: Food Junkie Recipes.
Hello Food Junkie Recipes, so tell us...
When did you begin your blog and what inspired you to start it?
I began my blog in February 2012 in order to record my culinary adventures and as a hobby.
In your wildest dreams, where is your blog going to take you as it develops?
Hopefully publish my recipes in e book one day.
Are you active in the blogging community? Have you met any interesting people through your blog or has it brought you to new places?
I have met likeminded people and fellow bloggers online.
Do you have a secret weapon in the kitchen?
I use a lot of savoury in my cooking.
What would be your choice of dish or menu if you had to choose your "last meal ever"?!
Bean casserole and greek salad, my favourite.
What is your earliest memory involving food?
My great grandmother in Bulgaria cooking on wooden stove.
Are there any chefs that you admire in particular?
Tom Kerridge, Rick Stein and Keith Floyd. Oh and Paul Holiwood for breads. I quite like most of Jamie Oliver's stuff too.
What is THE dish from Bulgarian cuisine that you believe deserves wider recognition internationally?
There are too many but to name a few we have an interesting take on Greek Moussaka and lots of salads, grilled meats and wine stews. Also there is a dish called banitza which is a filo pastry stuffed with feta cheese and eggs. Oh and kouzunak, which is the bulgarian version of panetone or easter bread. From the grilled meats kufte and kebapche are very popular, which are kinda similar to koftas, made from minced meat and grilled. Tarator is another interesting dish. It's a cold coup made from yoghurt and cucumber and its great in hot days.
Which Gourmandize recipe would you recommend? (if none take your fancy add your own and share it with us!)
Oh, I haven't looked though the website properly yet, so there's one of my own, which I really like:
Pork and Bean Casserole
Any last words or message for our readers?
Home cooking is great!
Thank you Food Junkie Recipes for answering our questions and see you soon!
Published by Laurence - 17/10/2013

If you are a blogger, a chef, working in the food industry or have a website about food and cooking, and you would like to share with our community, please contact us!
We would be happy to feature you on our site.