Forty-Something Fatso's interview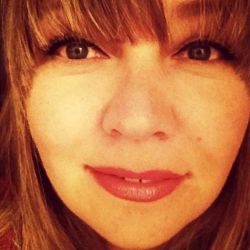 Interview by Laurence
Visit the blog: Forty-Something Fatso.
Hello Forty-Something Fatso, so tell us...
When did you begin your blog and what inspired you to start it?
I started the blog in early 2012. At that time it was meant to be a record of my attempts at improving my health via diet, smoking cessation, exercise and so on. Then I discovered raw food and the blog seemed to largely go off in that direction, of its own accord, with recipes for such deliciousness as raw chocolate, raw cakes, juices, smoothies, and so on.
I think another reason I started the blog was so that I could share what's going on in my life with my friends and family. I live in North Wales, 250 miles from my family who all live in London and Essex, and I work from home so I don't really see anyone from day to day, other than my husband. So, the blog gives me a means of telling my friends and family what I'm up to, in a way that I can't do quite so well on Facebook.
The blog also gives me a platform for publishing my writing; I always wanted to be a writer, as a kid, and in my late teens was convinced I'd be a famous poet (I think we've probably all been through that phase!)
As it turns out - my day job, nowadays, is marketing, copywriting and building websites, so I do get to write for a living; but rarely about subjects that interest me as much as food does!
In your wildest dreams, where will your blog take you as it develops?
I don't see my blog as being a stepping stone to any kind of celebrity - perish the thought! - but I do hope it encourages readers to experiment with what they eat, and to be less harsh on themselves about their food choices. I'm saddened to see people beating themselves up if they've had a bag of crisps instead of a raw carrot. Lighten up! Tomorrow is another day and nobody's perfect. Lose the 'diet mentality' (to quote a hero of mine - Jason Vale, the Juice Master) - try to eat food that's had as little human intervention as possible, but if you can't manage that, it's not the end of the world. So I suppose I hope my blog and particularly my attitude to dieting helps or inspires someone, somewhere, into being more accepting of themselves and particularly of their dietary choices.
What is your favourite dish of all time?
Ooh that's a tough one! Not sure if I have one as I love most food, but if pushed I suppose I'd say a good
Thai
green chicken curry from a decent restaurant. Or raw chocolate - there's always a batch of my 'coconut bad boys' in my fridge, for healthy snacking when the mood strikes. I think that'd have to be my desert island luxury, though I'd have to insist on a fridge to keep it in! :)
Your photos are lovely, in your opinion what makes a dish beautiful?
Thanks! I think that probably depends on the dish. A spotted dick and a salad are both beautiful in their own way :) I do like a nice colourful dish, though. I think I'm probably more aroused by aromas than by how a dish looks, to be honest. I know they say the first bite is with the eye, but sometimes a dish that looks like hideous brown sludge can taste amazing!
Do you have a secret weapon in the kitchen?
Not really, no - but I do have some favourite kitchen tools, like my milk bag (a fine mesh bag for making nut/seed milks) and a cheap little electric herb chopper from Lidl that gets plenty of use. My dehydrator comes in very handy for some of the raw dishes I make. And I'd be lost without my chocolate moulds!
What is your earliest memory involving food?
When I was about 3, at nursery school, my mum used to ask me what I wanted for lunch, and every day I wanted the same thing - mincemeat (minced beef in gravy) with mashed potato and Brussels sprouts. I was just addicted to it! I'd eat it in front of the TV, watching Rupert The Bear - that's a really distinct memory.
I had Coeliac's Disease as a child so I couldn't eat anything containing gluten or monosodium glutamate, which meant no cakes, biscuits, bread, sausages, fish fingers, burgers, and so on. Quite a challenge for my mum in the 70s, when there was less choice in the way of 'free-from' foods. I grew out of the disease in my mid-teens and still am not the biggest fan of bread (unless I've made it myself, in which case I say 'bring it on'!)
Are there any chefs that you admire in particular?
None that the average person would have heard of - but I'm in awe of some of the amazing raw food experts that create amazing raw dishes - like Kate Magic and Russell James, for example. Having said that - Marco Pierre White - phwoooaaar! I'd love to meet him, but that's probably not got much to do with his cooking! *winks*
If you could be a contestant or guest on any cooking show what show would you choose?
I wouldn't - I don't usually watch cookery shows or game shows so I'd be completely useless as a guest or contestant! :) But if pushed - I guess something involving Marco Pierre White or Gordon Ramsay, like Hell's Kitchen... not because I want to win a restaurant, but because I have quite a potty mouth when I get started - so I wouldn't mind getting drunk with Ramsay and having a good old swear-fest, just for the fun of it :)
We love your cover of I think I love you hehe, do you have any other upcoming musical creations?
Haha, thank you! :D There are a few knocking about that I've yet to upload. My husband is a civil engineer by day and a musician by night, so there are always music projects on the go in this house. Check the blog again around about Christmas time - we've written a Christmas song that's inspired by all the old 70s glam rock Christmas greats from back in the days when Christmas songs were brilliant. That's being released in time for Christmas so the video will be up on YouTube and on the blog in plenty of time :) It will also go on one of my other websites, http://www.keepchristmascheap.co.uk, which is going to be ready to launch soon.
If you want to see another of our songs/videos, there's 'Gweiddi' (
http://youtu.be/WmWW7Kw7Z8w
) - we filmed that on our local beach, last summer. At one point our neighbours wandered into shot, in the distance. All they could see was us dancing around on the beach, being chased by our dog... I think they thought we were mad (and they may be right!) This is a song in Welsh, about the futility of arguments in a relationship... "don't shout, I can't understand a word... you're just repeating what you've only just said" - and so on. Lots of fun to make, especially the bit where I'm bouncing on a mini trampoline in my wedding dress and veil! :)
Any last words or message for our readers?
If you're interested in cooking and want to up your game a bit, it's worth looking into raw food (or 'uncooking' as some call it) for healthy versions of your favourite naughty treats. Creating raw dishes - like cakes made from parsnips, cheese made from nuts or pasta made from courgettes - is some of the best fun you can have in the kitchen, and it takes your creativity to a completely different level. Check out Russell James
(
http://www.therawchef.com/
) and see the amazing things he's made from raw ingredients - it'll blow your mind! :)
Thank you Forty-Something Fatso for answering our questions and see you soon!
Published by Laurence - 11/09/2013

If you are a blogger, a chef, working in the food industry or have a website about food and cooking, and you would like to share with our community, please contact us!
We would be happy to feature you on our site.