Holly Bell's interview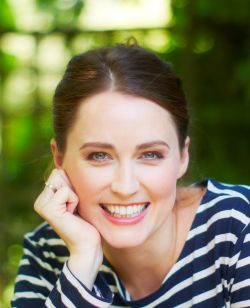 Interview by Charlotte
Visit the blog: Recipes From A Normal Mum.
Discover Holly Bell's favourite recipe: 7 Hour Slow-Roast Shoulder of Lamb
"At 18 months my eldest son was cracking eggs, sometimes more successfully than his mother. "
Hello Holly Bell, so tell us...
How did you get inspiration for starting your blog? What is the title about?
Well, a few years ago, when I was pregnant with my second son, I had a rare Saturday morning to myself and sat down with a cup of de-caff coffee and a broadsheet newspaper.
I turned to the recipe section and got increasingly irritated that a recipe that was supposed to be for normal, regular people with a normal budget and a regular amount of time to dedicate to cooking (ie/not much) featured over 20 ingredients and involved an online shop and an outlay of lots of cash. Who was this recipe for? Not me.
So I decided to record the recipes I make for my family, partly so that they were all in one place, and partly in case someone else fancied using them. Recipesfromanormalmum.com was born!
How early is too early to start involving kids in the kitchen?
Never too early! My third son is 4 weeks old at the moment and already he lays in his Moses basket in the kitchen as I prepare dinner. I talk about what I'm doing and why as he relaxes. My elder sons used to sit in the high chairs from 6 months and 'help' me in the kitchen. I would give them a small bowl, a spoon and some slices of fruit to stir up into their own fruit salad. At 18 months my eldest son was cracking eggs, sometimes more successfully than his mother.
The short answer is, it's never too early. I just make sure whatever involvement the boys have is age appropriate.
How do you involve your three boys in the cooking process? Do they enjoy it?
My elder two sons are 5 and 3. They love helping me make dinner each evening, even if it's to help peel some carrots of chop some strawberries for pudding.
Of course they get very excited about making sweet treats. We probably make a pudding together once a week - a cake, some biscuits or jam tarts. They love rolling their sleeves up and getting involved and definitely take after my very fashion concious husband; they simply have to don their aprons before even considering starting to prepare dinner!
What are your tips on cooking with kids?
The main tip I have is to try and relax and enjoy it! It won't be long before your little ones are teenagers and may not want to spend time hanging out with their 'uncool' Mum or Dad!
Here are a few tips and thoughts on making things easier in the kitchen when cooking with kids:
- Let them know there are parameters of what's acceptable. You know your limits. For me the kitchen is a place to be treated with respect – we don't throw food, we treat each other kindly and we don't eat anything unless it's deemed okay by Mummy. I don't enjoy trips to out of hours surgeries with tummies full of raw chicken.
- Choose recipes where they can get involved. Sounds obvious but anything where the main bulk of the time is spent deep frying or slicing with a mandolin is only going to end in bored tears.
- Allow some autonomy. Imagine never being able to deviate from a recipe? Life would be boring. It's the same for kids. If they suggest adding a little onion to a dish why not try it? You might like it. (Ignore this advice for cocoa scrambled eggs, take it from me – they're not great.)
- If your budget allows it, indulge in a small apron, possibly even a hat. Children do seem to love a dress up opportunity.
- Christmas and birthdays are perfect for some child size utensils. We have a small sieve, a tiny wooden spoon and a small whisk. In the meantime a tablespoon and a cereal bowl are quite adequate.
- Think of a meal like a good story; it has a beginning, a middle and an end. It starts with discussing, planning and shopping, it builds to the actual food preparation and the cooking and it ends with laying the table, taking drinks orders (the unadulterated happiness of a child with a piece of paper, playing waiter is beautiful) and clearing plates.
- Always, but always have a tea towel and/or wipes on standby for wiping egg smeared hands, floury tables and spillages. Yes there will be mess, but come on, let's keep some perspective.
What dishes could you recomment for picky eaters?
I've noticed picky eaters tend to be less picky when they're involved in the cooking. Failing that I'd try my carrot fritters, my carrot, courgette and cheese pancakes and my McCauliflower cheese recipe from my book. All quick, easy and very tasty.
Given the growing issue of childhood obesity, how do you get your children to eat well?
Well the kids have a starter of raw vegetables every evening like carrots, cucumber and peppers, then their main meal is served, which is always eaten at the table and is almost always cooked from scratch. Lastly there's a fruit course and then - and only then, there's a pudding.
I'm afraid I use the time honoured tradition of only giving pudding if the mains are cleared first - it works very well with my children! When it comes to new flavours and new dishes I don't make a battle out of the kids trying them but I do praise them a lot when they do. Lots of talk of how grown up it is to try new foods seems to motivate my children.
Very few foods are banned in the Bell household as I think once you ban something you make it into a very exciting thing indeed. Just everything in moderation. And a lot of running about in the garden.
Are there any foods you won't let your children eat?
I have racked my brains and I think the only thing I don't let the children have are fizzy drinks. My eldest son sometimes indulges at parties but often doesn't finish the cup - the idea is more exciting than the taste. I am also not crazy about them having boiled sweet style lollies. They are usually unable to sit still to eat them and end up wanting to tear about with the lolly in their mouth. The safety inspector in me foresees all kinds of choking incidents.
Any favourite 'go-to' recipes?
My tapenade stuffed chicken, my 7 hour rosemary and honey lamb, a delicious sausage and squash lasagne and of course, my grandmother's recipe for Cornish ginger fairing biscuits.
Thank you Holly Bell for answering our questions and see you soon!
Published by Charlotte - 18/07/2014

If you are a blogger, a chef, working in the food industry or have a website about food and cooking, and you would like to share with our community, please contact us!
We would be happy to feature you on our site.