Emily's interview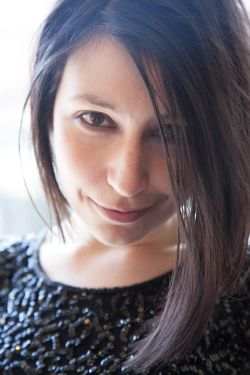 Interview by Laurence
We interviewed Emily!
Visit the blog: A Mummy Too.
" Don't let anyone tell you there's a right way or a wrong way. Don't feel you have to follow a certain pattern or use a certain structure - just blog for you, cook for you. "
Hello Emily, so tell us...
When did you begin your blog and what inspired you to start it?
A Mummy Too began in August 2011, while I was pregnant with my daughter. I was preparing for maternity leave and spending more time with my son, so we began to spend more time on craft, cooking and other family activities. Soon we'd done so much we wanted to share with the world, setting up a blog seemed like the obvious next step.
If you could go back in time, what is the one piece of advice you would give your younger self as they started out on your blog?
Don't take it too seriously. Blogging works best when you just do it.
What is your favorite dish of all time?
Anything with tofu - as long as the tofu is cooked just right and accompanied by plenty of green chilis *drools*
Your photos are great, in your opinion what makes a dish beautiful?
Thanks! I find food beautiful for the same reason I find people beautiful - organised chaos. People are all arms and hands and wiggling facial features that makes for a million photo opportunities between every blink. Food is a lot like that - it has a life of its own. Twisting, tumbling, bubbling.
To my mind, really beautiful dishes tend to be the ones that are allowed to tumble onto the plate, then you just clean up the edges and do a bit of prop dressing around the edges. Beautiful photos capture that.
Do you have a secret weapon in the kitchen?
Yes, my food processor. It saves so much time in so many ways. I can't recommend highly enough to budding cooks that you get to know your food processor properly - chances are, it does SO much more than you realised. Chopping, grating, whipping - it's a great bit of kit!
What is your earliest memory involving food?
Definitely my earliest memory is of tea at my Nana's house. Fish cakes and crunchy sweet pepper salad, followed by tinned fruit salad and TipTop. I've been veggie for 25 years now, but I still get cravings for fishcakes if I smell them cooking.
Are there any chefs that you admire in particular?
I love the chefs who just grab stuff and chuck it together. The chefs who make it more about fun, less about precision. Jamie Oliver, Nigella Lawson and, my personal favourite, Nigel Slater. All brilliant.
If you could be a contestant or guest on any cooking show what show would you choose?
I'd love to do Masterchef, but as a veggie I don't think I'd make it very far - so many of the challenges centre around meat and I don't think they'd be happy to leave me with a mushroom to 'skin and bone'!
Your blog has a lot of great tips for parents, what would you say has been one of your best food discoveries for your little ones?
Houmous! My kids love garlic, and I recently discovered that there isn't much they won't eat if I give them a pot of houmous to dip it in.
Any last words or message for our readers?
Cooking is about having fun. Don't let anyone tell you there's a right way or a wrong way. If you blog, don't feel you have to follow a certain pattern or use a certain structure - just blog for you, cook for you. Readers seem to love it when you blog from the heart.
Thank you Emily for answering our questions and see you soon!
Published by Laurence - 24/08/2013

If you are a blogger, a chef, working in the food industry or have a website about food and cooking, and you would like to share with our community, please contact us!
We would be happy to feature you on our site.