Claire's interview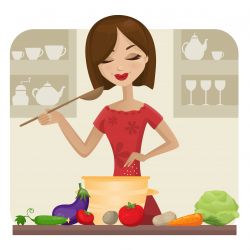 Interview by Laurence
We interviewed Claire!
Visit the blog: I Love Soup.
"It would be great if I could inspire you to start cooking (or should I say 'souping'?) and I welcome any questions or comments you might have."
Hello Claire, so tell us...
When did you begin your blog and what inspired you to start it?
While most people research their family tree, I started researching our family soup recipes! Although our family became very small, after the 2nd World War, we still had so many great family recipes. At one point, I figured that I didn't only want to cook them, I wanted to share them. These recipes inspired me to cook and invent many different soups and created a blog called 'I Love Soup' November 2011. Every week I share another recipe, but also encourage people to share their favorite soup recipe on the website.
What is your favorite dish of all time?
I would have to say chicken soup.
Your photos are stunning, in your opinion what makes a dish beautiful?
Simplicity.
Do you have a secret weapon in the kitchen?
My stockpot and a lot of TLC whilst cooking!
What is your earliest memory involving food?
As a young girl sitting at my grandmother's dining table, I can still vividly remember her serving her famous and aromatic chicken soup during our Friday night dinners.
Are there any chefs that you admire in particular?
My mom is a great chef and taught me the basics and the love for cooking.
Your soup collection is impressive, how many different national cuisines are represented?
You will be able to find soup recipes from all around world.
Which Gourmandize recipe would you recommend? (if none take your fancy add your own and share it with us!)
June 11, 2012
Turkish Red Lentil Soup/Mercimek Çorbasi
This version of Turkish lentil soup is home cooking at its best: healthy, hearty, easy and scrumptious delicious. I prefer to use (organic) red split lentils as they cook quicker than regular lentils. This soup is perfect to serve as a main meal by adding a piece of Turkish pide bread and a salad.
Ingredients -Serves 4
2 tbsp. of olive oil
200g/1cup of red split lentils, washed and drained
1 red onion, diced
2 cloves of garlic, finely chopped
1 large carrot, diced
1L / 4 cups of vegetable stock
1 tsp. of ground cumin
1 tsp. of ground paprika
Salt & black pepper
1 lemon, cut into wedges
2 tbsp. of tomato purée
Fresh mint for garnish
Preparation
Heat the olive oil on medium heat in your stockpot. Sauté the onion and when they are about done add the garlic, diced carrot, one teaspoon of ground cumin, one teaspoon of ground paprika and 2 tablespoons of tomato purée. Toss the ingredients until all ingredients are covered with the seasoning of each item and cook for another 5 minutes.
Add the washed and drained lentils, pour in your stock and bring to boil. Once boiling reduce the heat and simmer for 25 minutes or until the carrots and lentils are tender.
Turn off the heat and let the soup cool down for a few minutes. Place all but 3 cups of the soup into a blender or food processor and blend. Return the pureed soup to your pan and stir in the reserved cups of soup. Season to taste with salt and coarsely ground pepper.
Serve each bowl with a lemon wedge and garnish with fresh mint.
Any last words or message for our readers?
It would be great if I could inspire you to start cooking (or should I say 'souping'?) and I welcome any questions or comments you might have.
Thank you Claire for answering our questions and see you soon!
Published by Laurence - 01/10/2013

If you are a blogger, a chef, working in the food industry or have a website about food and cooking, and you would like to share with our community, please contact us!
We would be happy to feature you on our site.