Fred's interview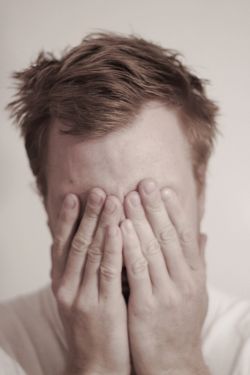 Interview by Laurence
We interviewed Fred!
Visit the blog: Delicious Tapas.
" ...it might not always taste great but as long as you have a bottle of wine and a phone number to a good pizza place what could go wrong! "
Hello Fred, so tell us...
When did you begin your blog and what inspired you to start it?
It was started in September 2012 and I've been doing lots of snack food and tapas during last summer. At the same time I have a secret dream of being a photographer so this was a good way to combining the two and keep getting better at both.
I named the blog Delicious Tapas but I cook what I feel like and is not bound to any specific cuisine, as long as it´s delicious and served in snack size it´s good to go.
If you could go back in time, what is the one piece of advice you would give your younger self as they started out on your blog?
This blog is so young so I don´t have that much advise on that one but I had another blog before called Matgalen (food crazy in Swedish) wich still exists at matgalen.blogspot.com so if I could advise myself on that one I would stick more to one subject.
Most good blogs I read focus on one thing and do that great, that´s why Delicious Tapas is all about small foods and photography.
What is your favorite dish of all time?
Impossible to answer! But some of my go-to favorites are caprese salad, all sorts of seafood, grilled meats, goat cheese, homemade pasta, stews and game during the winter, mushrooms, I could just keep going......
Your photos are great, in your opinion what makes a dish beautiful?
Try to make a clean composition, don't put too much food on the plate. Taking something away from the plate often makes the dish look better than the other way around.
I try to only put stuff on the plate that is intended to be eaten and if it doesn't taste good it has no business being there.
Do you have a secret weapon in the kitchen?
Fresh lemons, good music and why not a glass of wine while you're cooking?
What is your earliest memory involving food?
Not sure but I do remember my parents taking me to a small, probably not great, Pizza place where I had Spaghetti Bolognese, that was my first memory from a restaurant and I haven't looked back since.
Are there any chefs that you admire in particular?
Grant Achatz is the one who stands out but I take constant inspiration from Jamie Oliver, Gordon Ramsay, Rick Bayless, David Chang, Mathias Dahlgren, Heston Blumenthal, Mario Batali, Wylie Dufresne, Jonathan Waxman and hundreds of others.
If you could be a contestant or guest on any cooking show what show would you choose?
Top Chef or Masterchef.
You've just reached your 100th recipe on your blog, did you do anything to celebrate?
Not really, made a tweet urging people to take a look.
Any last words or message for our readers?
Keep cooking and try new stuff, it might not always taste great but as long as you have a bottle of wine and a phone number to a good pizza place what could go wrong!
And spread the word on Delicious Tapas!
Thank you Fred for answering our questions and see you soon!
Published by Laurence - 08/08/2013

If you are a blogger, a chef, working in the food industry or have a website about food and cooking, and you would like to share with our community, please contact us!
We would be happy to feature you on our site.