Lauren's interview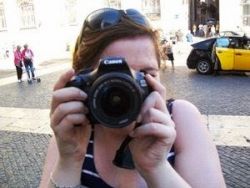 Interview by Laurence
We interviewed Lauren!
Visit the blog: The Food Project.
Hello Lauren, so tell us...
When did you begin your blog and what inspired you to start it?
I launched my blog back in June last year, but started planning for it a few months before that. At the time I was nearing the end of my second year of university, and had planned on working as much as I could during the summer, with the exception of one holiday. I realised I needed an outlet but couldn't figure out what that was. I never thought I was creative in any way, that was, until I sat down and started planning ideas to blog about. I decided that I would 'discover' the food scene where I lived (Cardiff) and bought an expensive camera, learned some basic HTML and Photoshop and went from there.
I was also very lucky that I knew a couple of people who ran successful blogs and were able to give me advice and support. This was helpful with the technical side of blogging and really useful to have.
In your wildest dreams, where is your blog going to take you as it develops?
Well its' definitely taken me on a bit of a crazy ride already! Now that I've graduated I plan on moving out of UK at some point in the next six months, so I will have lots of new places to blog about and pictures to take. I am taking the steps now to turn it into a full-time occupation for the future. But I understand that is a long process.
I'm currently producing an eBook for students moving to Cardiff for this September. I hope to expand my audience this way, and am taking steps to form links with bloggers my own age and who have a similar take on blogging as myself.
What is your favourite dish of all time?
People who know me know how much of a
cheese
lover I am. So as bad as it sounds for a food blogger - a cheese board. Living in Wales means I'm spoilt for choice when it comes to cheese. We have some of the best cheese producers in the world.
I'd have to have a soft goat's cheese, some smoked Tefi Valley cheddar, Amber Mist from Snowdonia Cheese, a blue cheese of some sort (usually a Roquefort) and lots of grapes, good apple chutney and some good old cream crackers.
Your photos are great, in your opinion what makes a dish beautiful?
I'm still mastering the art of indoor food photography and am still learning the best ways to highlight dishes and bring out the best in them. I do love food that is well presented and simple. I'm not into fancy food and dishes at all.
Do you have a secret weapon in the kitchen?
Spice! I never used to bother with adding herbs or spices to any of my cooking unless the recipe called for it. I love using Cayenne pepper a lot and lots of fresh herbs like coriander and parsley. Dijon mustard is also something I like to sneak in a lot as well.
What is your earliest memory involving food?
To be honest I don't really come from a family of great cooks. I think helping my Grandmother with the Sunday roast always sticks out in my mind. I started to learn to cook when I was 12 and took up the subject for my GCSE's. In fact, it was the subject I got my highest grade in!
Are there any chefs that you admire in particular?
I'm obsessed with Ina Garten and I think I've watched just about every episode of The Barefoot Contessa. Her life story is really inspirational and she's worked hard to get to where she is now. I really admire how her career path has changed over the years, and that she's never been afraid to jump head first into things and figure out the rest later.
How long have you been in Cardiff and can you tell us your favourite place to eat there?
Well, I've actually lived in Cardiff my whole life. I lived in America for a bit before coming back and deciding I really, really needed to start taking the steps towards shaping my future. I didn't start university until I was 23, so I decided to stay here for financial reasons and I think in some ways that's been a good thing.
I've always loved Tenkichi for the sushi and bento boxes. Unfortunately the recent development of a shopping centre attracted some sushi chains and closed down one of my other favourites Zushi. So I make sure I support my local sushi place.
Hang Fire Smokehouse for their outstanding take on BBQ food. Sam and Shauna are hard workers who had a vision and made it into a reality.
Which Gourmandize recipe would you recommend? (if none take your fancy add your own and share it with us!)
As I love cheese so much, it would have to be the baked lemon cheesecake!
Any last words or message for our readers?
Blogging is a lot of hard work, but if you really feel that you have something to share with the world then go for it. There will be days you wonder what the point of it all is, but it only takes one comment or tweet saying how much somebody enjoys your blog to remind you.
Don't be afraid to make your blog stand out. I didn't want my blog to fall into the category of restaurant reviews and that means I have to work harder to keep to my vision. I'm a big believer in things happening for a reason and that it'll work out for the best. Never give up.
Thank you Lauren for answering our questions and see you soon!
Published by Laurence - 21/08/2013

If you are a blogger, a chef, working in the food industry or have a website about food and cooking, and you would like to share with our community, please contact us!
We would be happy to feature you on our site.