Chocolate and caramel macarons
Macarons! I tried to make them over half a year ago but I did not succeed. Even before I started preparing them, I became nervous, because I was surfing the internet. I read all sorts of horrors, that success on preparation macarons depends even on the time of year and humidity! And when the end result was suitable for trash, I might have felt a little bit of moisture in my eyes. I was really nervous when I did them this time. I followed each step of the recipe (including the fact that I left the egg whites for one day at room temperature). Hey, it was my second time I dealt with this, do you think I won't approach this very seriously ? =) And I did it! It worked!
Google Ads
Rate this recipe
4.4

/

5

(

27

Votes)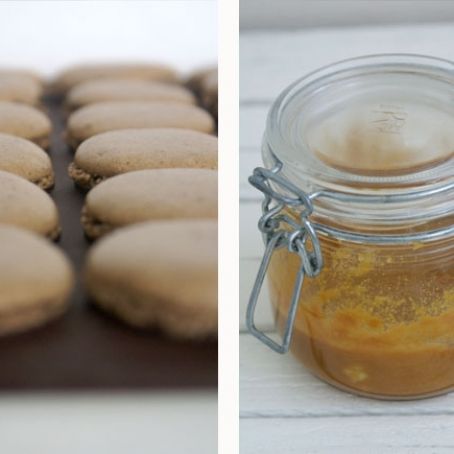 3 Pictures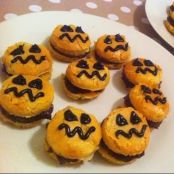 Halloween Macarons!
Ingredients
Chocolate macarons
Makes about 35 whole
Ingredients
100 grams blanched
ground almonds (make sure to grind more than 100 grams)
100-110 grams egg whites aged 1 day at room temperature
15 grams cocoa powder
185 grams powdered sugar
4 tablespoons sugar
Caramel
Ingredients
100 grams granulated sugar
150 ml heavy cream
85 grams salted butter
A pinch of seasalt(optional)
Details
servings 16
Level of difficulty Average
Preparation time 10mins
Cooking time 14mins
Cost Budget Friendly

Preparation
Step 1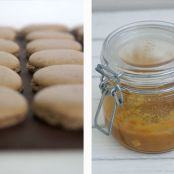 Macarons

The process
1. Grind the almonds in a mixer or a food processor. Push the almond flour through a sieve to get rid of any large pieces or lumps.
2. Mix the powdered sugar and cocoa powder together with the ground almonds in a food processor.
3. In a large bowl, whip the egg whites with a hand- or stand mixer. As the egg whites start foaming, add the sugar one tablespoon at a time and continue whipping until the mixture is glossy and stiff. You should be able to hold the bowl upside down without the meringue sliding out.
4. Fold the dry mix carefully and slowly into the meringue, use a spatula. Add food coloring if desired until fully mixed. Don't overmix!
5.. Fill your piping bag and pipe the macarons onto a baking sheet. Don't pipe too much of the mixter, because it spreads. Let them set for 60 minutes to form a dry skin.
6. Preheat the oven to 150° C. Bake for about 14 minutes. Let cool completely, then spread caramel on them and sandwich them together.
Step 2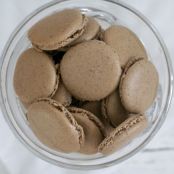 Caramel

The process
1. Carefully heat the sugar in a saucepan withput stirring. Once the sugar starts melting and becomes a lovely amber brown color, swirl a few times. Remove from heat and swirl until all the sugar has melted. Heat the cream in another saucepan.

2. Add the diced butter to the sugar. Be very careful so you don't get caramel on yourself, it is HOT! Once the butter is added, it will start to curdle a bit, but just keep stirring and it will come together. Put the saucepan back on the heat.

3. Add the cream, a little at a time. Be careful, it will spit and spatter like crazy! Let the caramel boil for a few minutes and then remove the pan from the heat. Let cool and then pour your lovely caramel into clean jars. Don't worry if the caramel seems to runny, it will harden in the fridge (hopefully not too much..). Store in the fridge. If you feel that your caramel is to stiff, leave it in room temperature before using.

​
Like these recipes? Then you'll love