Red Macarons with Chocolate Ganache
Crisp macarons with a rich dark chocolate ganache filling. This macaron recipe can also be found on my blog www.goodfoodshared.blogspot.com

Google Ads
Rate this recipe
3.6

/

5

(

155

Votes)
Ingredients
For the macarons:
155g Ground almonds
200g Icing sugar
sifted
3 Egg whites
Red food colouring paste ( I used Sugarflair paste Christmas Red)
Chocolate Ganache Filling:
100g Dark chocolate (55% cocoa solids is sufficient)
100ml Double cream
Details
servings 20
Level of difficulty Average
Preparation time 15mins
Cooking time 15mins
Cost Average budget

Preparation
Step 1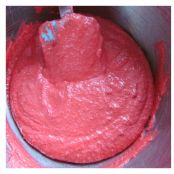 Make the ganache first and allow to cool completely. Break the chocolate into small pieces, place in a small jug with the cream and melt in the microwave. This should only take 2-3 minutes, but it's best to check every 30 seconds just in case the chocolate burns. Stir until smooth and allow to cool. Meanwhile line two large baking sheets with baking paper (parchment paper). Whisk the egg whites in a large spotlessly clean bowl (otherwise they won't whisk up correctly) until they form stiff peaks. Add the icing sugar a couple of tablespoons at a time until it is all incorporated. Your mix should be meringue like (shiny and smooth). Gently fold in the food colouring paste (about a quarter of a teaspoon) and ground almonds until everything is completely mixed through and smooth (my batter should have been smoother, less bumps on the finished shell)
Step 2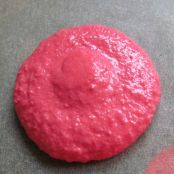 Spoon or pipe small rounds onto the baking sheets, leaving a 2cm gap between each. If you are piping the macarons, hold the piping bag vertically over the sheet, gently squeeze the bag, until a small round is formed, carefully but quickly lift the bag away and move onto the next macaron (it would be worth watching the professionals do this, they almost whip the bag away from the macaron once it's piped). Gently bang the baking sheets on a solid surface to remove any air bubbles and to smooth out the tops. With a wet finger smooth away any remaining peaks, this looks more professional and it prevents the peaks burning in the oven. Leave for 30 minutes to form a skin.
Step 3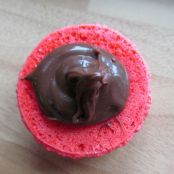 Preheat the oven to 160°C/325°F/Gas Mark 3. Bake for 15 minutes or until firm. Cool on the tray before transferring to a wire rack (I used a pallet knife to move them). Spread a large teaspoon of ganache over the base of the macaron and sandwich on the top halves.

​

Place a small splodge of macaron mix under each corner of the baking paper to prevent the parchment paper lifting while you are piping.
Like these recipes? Then you'll love