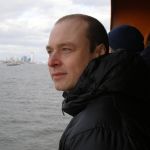 Pan roast rib of beef with thyme roasted vegetables
This dish is pretty much the epitome of my kind of cooking. Everything here relies on quality ingredients cooked simply with respect.

This dish will only ever be as good as the beef that you source, this isn't a cheap cut but it'll serve 4 adults with some left for cold and a bone leftover to make stock with, if you have limited funds invest in the beef! For me, quality meat means going to a good butcher and indeed you won't find this cut in the supermarket so this recipe really does start at your local butchers.

Once again the recipe's totally adaptable, you can substitute the root veg for others (or even steamed greens in a mustard dressing) add some honey before you roast etc etc. All delicious. You could experiment with other cuts of beef but this is by far my favourite, it has a wonderful flavour when treated this way.
Google Ads
Rate this recipe
3

/

5

(

124

Votes)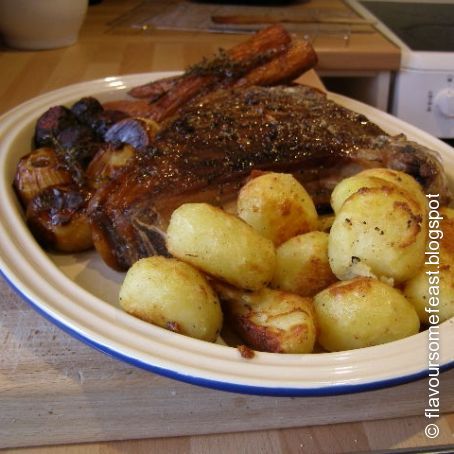 3 Pictures
Ingredients
1 rib of beef on the bone weighing 1.5-2kg
go for the best that you can afford
2 cloves of garlic
Olive oil
4 large carrots
4 small beets
4 onions
Large sprig of thyme
1 kg floury potatoes
Details
servings 4
Level of difficulty Average
Cost Average budget

Preparation
Step 1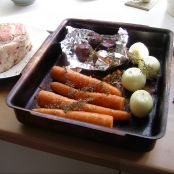 1) If you remember, take the beef out of any wrapping and rub well with olive oil lots of black pepper and the garlic (finely chopped) about 24 hours prior to cooking. Do not salt at this stage or the beef will start to cure and you'll have the start of a pastrami!

2) This step's non negotiable, take the beef out of the 'fridge and leave uncovered at room temperature for at least 2 hours prior to cooking to allow it to come to temperature, if not already peppered / garlicked do that at this stage. If you ignore this stage you'll have the familiar barbecue "burnt sashimi effect". Pre heat oven to 140C

3) Take the beets and carrots, top, tail and scrub clean, there's no need to peel them. Peel your onions. Rub all of these with salt, pepper, thyme and a little olive oil, place in the oven, we want these to soften slowly over around 2 hours.
Step 2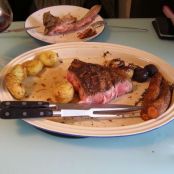 4) Peel and halve your potatoes if large, place in a pan of salted water bring to the boil and simmer for 4 minutes until the edges are just soft. Drain well and allow to steam dry before seasoning with salt and pepper, add a tablespoon of olive oil and shake in the pan to rough the edges up. You may add the garlic that's been on the outside of the beef at this stage if you so desire.

5) After the vegetables have been in for around 90 minutes increase your oven temperature to 250C, move the vegetables to the bottom and place a tray with 2 tblsp of olive oil on the top shelf, once up to heat add potatoes to the hot oil (carefully).

6) Heat a dry ovensafe griddle pan or heavy frying pan to smoking point on the hob, salt the beef thoroughly, rub with a little oil if dry and sear very thoroughly on all sides. You need a well browned flavourful crust, that's what this dish is all about.

7) Once seared, transfer the beef to the top of the oven (still at 250C) and move the potatoes down, checking and turning if necessary, not forgetting to check on the veg in the tray below. If things are browning too quickly turn the oven down a little, but not below 220C.

8) Check the beef after about 10 minutes, feeling the firmness as a guide to how well done it is (or cheat and use a meat thermometer) it should take 12-15 minutes for medium rare depending on the thickness. Obviously cook to your preference.

9) Remove the beef and allow to rest for at least 15 minutes on a trivet with a plate underneath to catch the juices.

10) Check on your veg / potatoes you can use these 15 minutes to crisp your potatoes, your veg should be soft but not too brown.

11) Pour the resting juices back over the beef, carve and serve on a large platter.

​

This recipe's all about simple flavours, use great produce (meat and veg) and ensure that you caramelise the outside of the beef well... Enjoy and let me know how you get on! Visit my blog for similar ideas.
Like these recipes? Then you'll love
Chef Tips and Tricks
How to trim and tie a roast
In this video, we show you the best way to trim and tie a roast, all by yourself! You don't need the butcher or supermarket to do it for you when it's so easy to do it at home.