Chlupate Knedliky
By lool
This is a Czech Republic, long loved, traditional sidekick. It can be eaten with soup, sauces, Gulas etc. It is very easy to make and also cheap. Knedliky (also known as big dumplings) taste delicious and are very famous in the Czech Republic. Surprise your family with this tasty and a bit different side dish. You will not disappoint and your children can make this with you. Preparation and cooking only takes around half an hour and you will want to make it again and again for your family to enjoy with variety of meals.
Google Ads
Rate this recipe
4.5

/

5

(

22

Votes)
Ingredients
800g Cooked/Uncooked Grated Potatoes
1 egg
250g Bread/Self-Raising Flour (Special Czech Polohruba Mouka Flour)
1 tsp Salt
Details
servings 4
Level of difficulty Easy
Preparation time 15mins
Cooking time 20mins
Cost Budget Friendly

Preparation
Step 1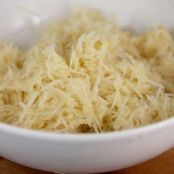 First, choose if you would like the dumplings to be firm or soft. If you would like them to be soft, boil the potatoes and then grate them. In this instance, the dumplings will be firm which means we will not boil the potatoes, instead we will grate the potatoes raw. Pour out most of the water produced so the dough is not too wet.
Step 2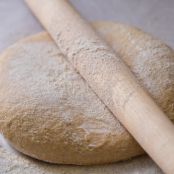 After letting the potatoes set for a few minutes, add the salt, the flour and the egg. Knead this for around 5 minutes, this dough does not need to be set to rise as it does not contain any yeast.
Step 3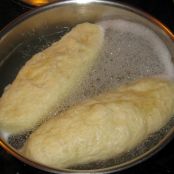 Cut the dough in half or three depending on size and then you are ready to cook. There are many ways of cooking the dumplings, you can put it into a large saucepan with water and close the lid (do not open while it is cooking). Let the dumpling cook on one side for 5 minutes and then the other for the same amount of time. Or you can also put into a towel and cook it the boiled water for around 10 minutes without removing the lid. Either way, the dumplings will taste the same and look very similar.
Step 4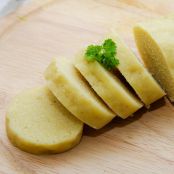 Let the dumpling cool down for a few minutes and then cut into medium slices. Dobrou chut!

​

Make sure you do not over/under-cook the dough by poking a fork and making sure the dough does not stay on the fork. If it is under-cooked, the dough will be very wet and squishy, if it is over-cooked the dough can become quite dry.
Like these recipes? Then you'll love