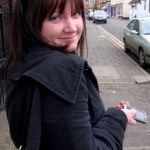 Gramps' Truffles
Many years ago when I was in elementary school in South Dakota we had to come up with a business idea. Mine was called "The Truffle Tree" and was based entirely around a recipe my granddad made with me a few times. I'm taking no credit for this recipe at all, altering no measurements and not even changing any of the instructions (rare for me!)
Google Ads
Rate this recipe
2.4

/

5

(

12

Votes)
Ingredients
175grams (6 oz) of biscuit crumbs. I used Tesco's cheapest own brand digestive biscuits. Either put them in a food processor to reduce them to crumbs
or simply cover them with baking paper and use a rolling in to crush them.
30grams (1 or 2 ounces) of raisins
chopped small. Again
a food processor with blade if you have one. Otherwise a knife on a board.
40g (1.5 ounces) hazlenuts
finely chopped. A coffee grinder or blender does this well.
50g (2 ounces) ground almonds. Tesco's will have this in stock in the baking section.
50g (2 ounces) blackcurrent jam.
15ml (one good teaspoon) of brandy. If you have no brandy (cognac) use rum.
Coating = about half a pound (250g++) of cooking chocolate. Tesco's sell their own brand of rich 72% cocoa solids chocolate
which is better than milk choc for this job
if you don't like cooking chocolate.
Details
servings 12
Level of difficulty Easy
Preparation time 15mins
Cost Average budget

Preparation
Step 1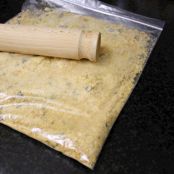 Mix together thoroughly all the ingredients except the chocolate. (Use a food processor if you have one or bash everything together in a ziploc bag).
Step 2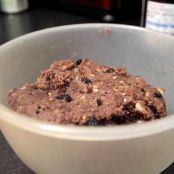 Add the jam and the brandy and mix everything well.
Step 3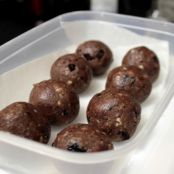 Shape it into as many walnut-sized balls as you can.
Step 4
Lower a small pyrex jug or bowl into a pan containing a small amount of water. Set the pan on the stove to bring it to a good heat. Cut up all the chocolate small, and bit by bit put it (as required, during the coating process) into the pyrex bowl, where it will melt
Step 5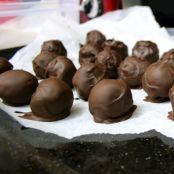 Dip each truffle into the melted chocolate to coat it, and put the coated truffle on to a tray covered with greaseproof paper, for the coating to cool and become solid.
Step 6
This done, release the truffles from the paper, and eat them all before anyone else gets to them.

​
Like these recipes? Then you'll love