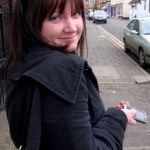 Easy Ham & Veggie Fried Rice
This is such a quick an easy dish and can be made using leftovers. It's prefect for a quick weeknight dinner or even a snack or side dish.
Google Ads
Rate this recipe
3.4

/

5

(

128

Votes)
Ingredients
250g day old rice
2 medium eggs
1 tablespoon fish sauce
1/2 tablespoon mirin
1/2 tablespoon sesame oil
A handful of finely diced or pulled ham
Vegetables of your choice. I used:
1/2 courgette
diced
3 shiitake mushrooms
5 bok choy leaves
3 ears of baby corn
4 snap peas
8 chives
Details
servings 2
Level of difficulty Easy
Preparation time 5mins
Cooking time 10mins
Cost Budget Friendly

Preparation
Step 1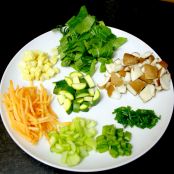 Slice baby corn, snap peas, bok choy (stems chopped separately), chives, finely sliced carrot, courgette (zucchini to my American friends!) and shiitake mushrooms
Step 2
Heat the pan with a little oil - I like to use olive oil when cooking but any vegetable oil will be fine. Heat the oil to a medium temperature to begin with.
Step 3
Break the eggs into the pan and wait until they start to turn white. Once the eggs start to turn white around the edges, start stirring. You want to get the egg so it is almost scrambled but a bit runny still and then add the rice. Keep stirring so that the egg gets cook through and coats some of the rice. If there are any big chunks of egg, break them apart.
Step 4
I use fish sauce for my fried rice instead of soy sauce because it has no colour but you still get the salty tang. If you don't have fish sauce, it's fine to use any soy sauce you have but the result will be a bit darker. Add the sesame oil and mirin and mix the rice and egg mix to make sure it's coated with the liquid ingredients.
Step 5
Add your veggies in order of what needs to be cooked for longer - I put the baby corn in first followed by the snap peas, carrot, bok choy stems, courgette then the bok choy leaves. This is all entirely up to what veggies you use and how you like them cooked. Keep stirring so that the egg doesn't stick to the bottom of the pan.
Step 6
When the veggies are almost cooked I add the ham - I bought some from the supermarket that was already shredded but you can used sliced ham, leftover ham, bacon...
Step 7
Check before serving that it's to your taste - I like mine to be quite salty so usually add a little more fish sauce.

​
Like these recipes? Then you'll love