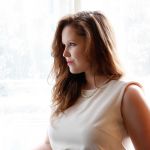 Red & Black Velvet Casino Cakes
By Badgertails
These tower cakes are fab for poker night with the girls.
Google Ads
Rate this recipe
2.9

/

5

(

65

Votes)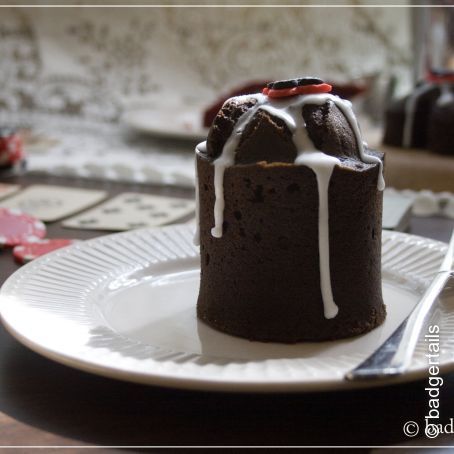 4 Pictures
Ingredients
For the cake:
6 oz golden caster sugar
6 oz margarine
3 medium free-range eggs
6 oz self-raising flour
2 heaped tbsp cocoa powder
2 tsp vanilla extract
1-2 tsp red food colouring
1-2 tsp black food colouring
water
For the icing:
2 tbsp icing sugar
water
50 g red ready-roll icing
50g black ready-roll icing
Details
servings 4
Level of difficulty Average
Preparation time 30mins
Cooking time 30mins
Cost Average budget

Preparation
Step 1
Start by pre-heating your oven to 180°C (350° F, Gas Mark 4) and grease the inside of each of the food rings. Place them on greaseproof paper or opened muffin cases on a baking sheet, ensuring they are as flat as possible.
Step 2
In a small bowl, combine 1 tablespoon of the cocoa powder with 1 teaspoon of the vanilla extract, and the red or black food colouring. If it doesn't turn into a thick, coloured paste after stirring, add in water, a small amount at a time. I found that I needed a tablespoon of water to create my paste.

Repeat this again with the remaining cocoa, vanilla and colouring, so that you have a red paste and a black paste in separate bowls.
Step 3
In a large mixing bowl and with an electric whisk, mix the sugar and margarine together until light and fluffy.
Step 4
In a separate bowl or jug, whisk the eggs together with a fork or hand whisk, until well combined.

Next, whilst whisking the sugar and marg mixture once again, gradually pour the egg in, a bit at a time.

When all the egg is mixed in, gently fold the flour in by hand, using a wooden spoon or spatula.
Step 5
Now, carefully spoon half of the mixture into a separate bowl. Add in one of the coloured pastes and fold once again, until it all becomes the same colour. Repeat with the remaining mixture in the other bowl, using the other colour paste you made earlier.
Step 6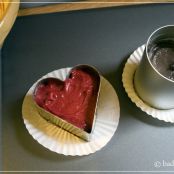 Next, spoon the mixture into the food rings, making sure that they are still sitting flat. Fill them to about three quarters full. Bake on the middle shelf of the oven for 25-30 minutes, or until a knife inserted into the centre comes out clean.
Step 7
Once fully cooked, remove from the oven and leave as they are to cool down. If the cake mixture has spilt out, cut off with a sharp knife while they are still in the rings. Once cooled, run a thin knife around the inside of the food rings and slide the cakes out onto a plate.
Step 8
To make the runny icing, combine two tablespoons of icing sugar with a couple of drops of water, and stir. Only add the water a drop at a time, as it will suddenly turn to icing while stirring.
Step 9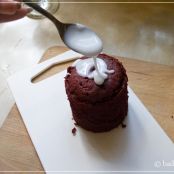 Once fully mixed, drizzle a teaspoon of icing over each cake, allowing it to drip down the sides. You can encourage the drips to go where you want by getting their direction started off on the top of the cake, by gently easing the teaspoon towards the edge.
Step 10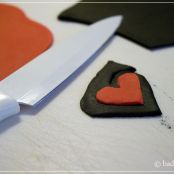 Next, roll your coloured ready-roll icings out onto a flat surface, and carefully cut the suit shapes out with a sharp knife. I cut one out in red, then stuck it onto black and cut out around it again, to create a two-tone shape, and vice versa. If you find your icing shapes aren't sticking to one other, dab them with a little water on your finger to fuse them.

If you're not so confident about the fiddly cutting for these, you can always print off the suit shapes from the internet and use them as templates.

Now press each of the shapes onto the relevant cake and sprinkle with a little edible glitter, if desired.

​
Like these recipes? Then you'll love