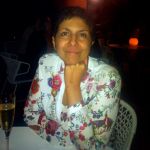 Quick Peanut Butter and Chocolate Squares
By selmastable
These Peanut Butter and Chocolate Squares are really quick to make and are delicious pick-me-up with a mid-morning espresso. I think that they would be rather lovely with a glass of milk too. They are not too sweet, with that unmistakeable savoury peanut butter flavour; chocolatey with a little hit of salt. The body is given by the Saltines which are an American cracker with a light sprinkling of salt on them. I've found that Sainsburys sell an Italian version called Doriano which is what I used for this recipe.

These are so simple to make; blitz the crackers, melt the butter with the sugar and milk; pour onto crackers and peanut butter; mix and pat into a pan; cover with melted chocolate and sprinkle with flaky salt.
Google Ads
Rate this recipe
3.7

/

5

(

86

Votes)
Ingredients
2 cups sugar
1/2 cup milk
45 g butter (3 Tbsp)
240 g Saltine crackers (in the UK use Dorianos from Sainsburys)
1 tsp vanilla extract
340 g smooth peanut butter
200 g dark chocolate broken into small pieces (use semi sweet or milk chocolate if making for younger palates)
45ml cream (3 Tbsp)
Flaky sea salt to sprinkle
Details
servings 16
Level of difficulty Easy
Preparation time 15mins
Cooking time 3mins
Cost Budget Friendly

Preparation
Step 1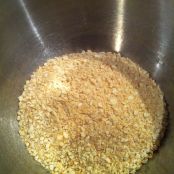 Blitz or crush the crackers into fine crumbs, depending on how much texture you want in your squares. Doing this in a food processor took me about 2 minutes, pulsing for the last 30 seconds to check on progress.
Step 2
Empty into a large mixing bowl then scrape out the peanut butter over the top of the crumbs.
Step 3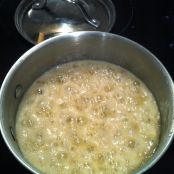 Place the sugar, milk, and butter in a saucepan over medium low heat, stirring from time to time. It needs come to a boil slowly. Once it comes to a full boil, set the timer for 1 minute. The mixture will froth and foam so don't panic and take it off the heat.
Step 4
While the mix is coming to a boil, get the baking pan ready. Line a 9 inch square pan with parchment paper or non-stick foil. The easiest way to do this is to turn the pan over, drape the paper over it and make some folds in the corners - a bit like gift wrapping. Slip the paper off, turn the pan over and the paper will slide right in. Leave a little overhang so that you can pull up on it later.
Step 5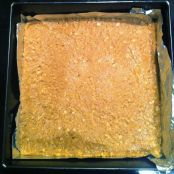 When the minute is up, carefully pour the extremely hot sugar mixture over the crackers and peanut butter. Add the vanilla and then stir with a spatula until it is really well combined. Scrape the mixture into the prepared pan, smooth it out and leave it to cool for about an hour.
Step 6
Heat the cream in a pan until it just comes to a boil. Take it off the heat and stir in the pieces of chocolate. Stir until the chocolate has melted and it's all looking lovely and glossy.
Step 7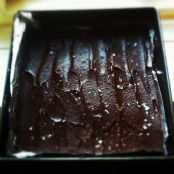 Pour it onto the peanut butter mix and smooth out with a spatula.
Step 8
Sprinkle with flaky salt while the chocolate is still warm
Step 9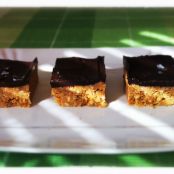 Pop into the fridge to allow the chocolate to set, then remove from the tin using the overhang to help to pull it out. With a large knife, cut into squares of whichever size you like. I like to cut it in half and then cut each piece in half again so that you have 4 long rectangles. Then spin it around a quarter turn and do the same. This way you get 16 equal size pieces which you can halve to make smaller bars.
Step 10
Store in an air tight tin.

​
Like these recipes? Then you'll love