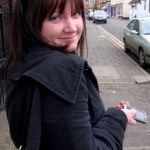 NY Style Bagels
Perfect bagels aren't difficult to make! This is a recipe for NY style bagels - a shiny and chewy crust with soft insides.
Google Ads
Rate this recipe
3

/

5

(

28

Votes)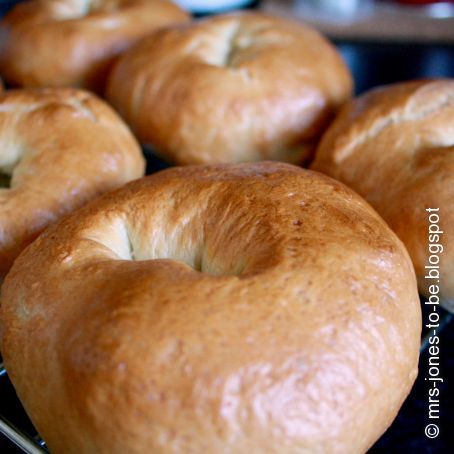 5 Pictures
Ingredients
480g plain flour
2 teaspoons dry yeast
1 1/2 tablespoons sugar
300ml warm water
1 teaspoon salt
Details
Level of difficulty Average
Preparation time 15mins
Cooking time 15mins
Cost Average budget

Preparation
Step 1
Mix the yeast, sugar and half of the warm water gently in a bowl and let sit for about 5 minutes.
Step 2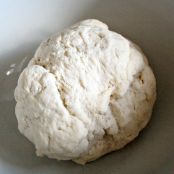 Add the salt to the flour in a large bowl (I used an electric mixer so used the bowl on that) and add the yeast mixture. Mix slowly until the dough comes together then increase the speed (or elbow grease!) to medium for about 5 minute, 10 by hand, until the dough is smooth and elastic.
Step 3
Place the ball of dough in a lightly greased bowl, cover with a damp tea towel or cling film and let rise in a warm place for about an hour.
Step 4
Preheat your oven to 210C and bring a large pan of water to the boil.
Step 5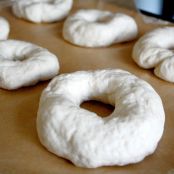 Once the dough has risen, knock it back and divide into 8 equal lumps. Gently roll each portion into a ball, flatten slightly and poke a finger through the middle. Work your way around the dough to stretch it out from the hole to make a bagel-y shape. Place bagels on a baking sheet lined with greaseproof paper.
Step 6
Once your pan of water has boiled, drop the bagels in one at a time allowing each side to boil for around 30 seconds and return to your baking tray.
Step 7
There seem to be 3 camps of people when it comes to the water...some add baking soda, some add sugar and some leave it plain. I tried half of my bagels with plain water and half with baking soda and saw no difference in the texture, taste or colour whatsoever...
Step 8
If you wanted to add a topping, you would want to dip the top in your topping right after it's been boiled and drip-dried.
Step 9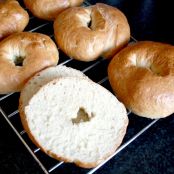 Bake the bagels for around 15 minutes or until golden brown.

Leave to cool on a wire rack (or just get stuck in like I did!)

​

Instead of plain bagels, try different toppings - "everything" (dried onion flakes, dried garlic flakes, poppy seeds, sesame seeds, salt), poppy seeds, sesame seeds, kosher salt, jalapeno flakes, caraway seeds
Like these recipes? Then you'll love