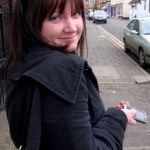 Pork & Seaweed Gyoza
One of my favourite meals (or snacks) - Japanese dumplings (gyoza) filled with pork and seaweed.
Google Ads
Rate this recipe
3

/

5

(

54

Votes)
Ingredients
Gyoza Wrap
1 cup plain flour
1/4 cup boiling water (add a little more bit by bit if needed)
Gyoza Filling
500g ground pork
1 clove finely diced garlic
1 teaspoon finely diced or grated ginger
2 stems of spring onion
halved lengthways and sliced
4 water chestnuts
finely chopped
1/2 cup seaweed
Dipping Sauce
1 tablespoon soy sauce
1 teaspoon sweet chilli sauce
1/2 teaspoon sesame oil
Details
servings 5
Level of difficulty Easy
Preparation time 15mins
Cooking time 10mins
Cost Budget Friendly

Preparation
Step 1
To start making the gyoza, prepare the filling. I finely sliced the garlic, ginger and water chestnuts. The seaweed I used (kelp and another mystery type) is dried so needed to be soaked. It took about 10 minutes using warm water and I rinsed most of the salt out but wanted it to still be a little salty so I wouldn't have to add any additional salt.
Step 2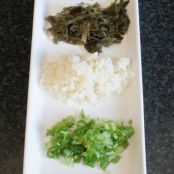 Once the seaweed was soft, slice it into fine slices. Finely slice the spring onion and finely dice the garlic, water chestnuts and ginger.
Step 3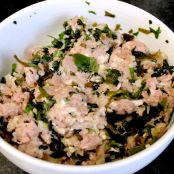 Mix the chopped ingredients and sesame oil in with the pork until all ingredients are well mixed. I like to leave the pork mixture in the fridge for about an hour so all of the flavours have a chance to mix.
Step 4
The dough for the wrappers are also really easy - mix the hot water with the flour, use chopsticks to combine and then knead by hand once the water is cool enough. The dough will need to be ever so slightly sticky as extra flour will be added when it's rolled out. Leave to rest under a damp tea towel for about 10 minutes
Step 5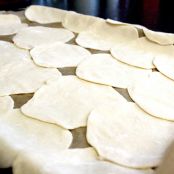 Separate your dough into small balls, about a 1 inch ball, then roll flat. They need to be rolled to a thickness of about just under a millimetre. Too thin and the wrapper will split when you cook it, too thick and the dumplings will be too doughy.
Step 6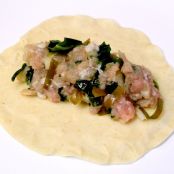 Fill the wrappers with just under a teaspoon of the pork mixture, wet the edge of the wrapper and then seal the dumpling. Make sure it's sealed tightly so that when you cook it there are no leaks.
Step 7
Heat about a tablespoon of oil in a pan - I use vegetable oil but any other oil that has little flavour is ok. Once the oil is hot, place the dumplings on their side in the pan and fry until golden.
Step 8
Flip the dumplings over so they are golden on both sides then pour water into the pan, so the dumplings are almost a quarter covered, then put the lid on the pan. Make sure that there is space between all of the dumplings or they will stick together when steamed
Step 9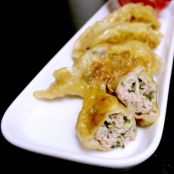 Steam the dumplings until the water has boiled away and then serve with dipping sauce.

​
Like these recipes? Then you'll love
Chef Tips and Tricks
How to trim and tie a roast
In this video, we show you the best way to trim and tie a roast, all by yourself! You don't need the butcher or supermarket to do it for you when it's so easy to do it at home.